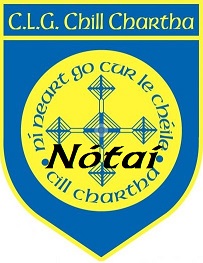 Comortas Peile
Our juniors defeated Naomh Naille 3-07 to 1-05 in Towney last Saturday in the opening round of the Comortas Peile, the match will be noted as it was the first time the four O'Donnell brothers (Eoin, Ryan, Conor and Ciaran) played on the same team together. This Saturday our seniors make the trip to Gaoth Dobhair with our Under 15s play Ardara.
Club Meeting
This month's club meeting takes place in The Tea Rooms, Towney next Monday 13th at 8pm all welcome.
Club Development Survey
Our Club Development Survey is available online at this link: https://shorturl.at/crCLV, for those who cannot access the survey online, copies are also available in Áislann Chill Chartha, Centra and the Parish Hall. This short survey should only take about 10 minutes to complete, and your feedback is an essential part of our development planning process. The survey closes this Sunday, March 12th so please have your submission in before the deadline.
2023 Membership
2023 Club Memberships can now be purchased online at this address: https://clgchillchartha.com/club-membership the rates remain the same.
Do you know your Sport?
CLG Chill Chartha Know Your Sport is BACK!! €600 in prizes!! Click on the link to enter! https://forms.gle/2AYoY1JHwCPjH3768 
Irish Classes
Tá muid ag iarraidh ranganna Gaeilge a eagrú, líon isteach an fhoirm thíos le do thoil. We are hoping to host Irish Classes, please complete the form below. Faoi 18/Under 18, Os cionn 18/Over 18's are welcome to fill out the form.
Link is below to fill in our form! We also have printed copies available locally.
Go raibh maith agaibh. Má bhíonn a thuilleadh míniúcháin uait, déan teagmháil linn. Nasc: https://forms.gle/LZNHgstnjBY2Q8q9A 
Cranchur an chlub "Lotto" - Beidh €10,000 i bpota Óir an tseachtain seo chugainn.
Is iad na huimhreacha 'Lotto' an tseachtain seo ná: 3, 6, 20 agus 25. Buaiteoirí eile: €50 Carmel Lyons, Cashel €30 Sean Campbell, Meenboy €20 Noreen Conwell, Killybegs agus Shaun Maloney, Ardara. A bhuaiteoirí, téigh i dteagmháil leis an chlub ag treasurer.kilcar.donegal@gaa.ie, le bhur nUimhir Idirnáisiúnta Cuntais Bhainc chun do chuid airgid a fháil. Winners can contact the club at treasurer.kilcar.donegal@gaa.ie with their IBAN and BIC details so payments can be sent straight to your bank account. Bí páirteach sa chrannchur an chlub, is féidir leat bhur n-uimhreacha a cheannach ag ár seastán i Centra, Cill Chartha nó tá tú ábalta iad a cheannach ar líne roimh 6pm gach Dé Domhnaigh ag an nasc seo: https://tinyurl.com/y6tx8f64. Entries can also be purchased at our stand in Centra, locally or online before 6pm each Sunday at this link https://tinyurl.com/y6tx8f64 
Bingo
Bingo this Sunday night in The Parish Hall, €1,400 to be won on the night with the Jackpot of €10,000 still there to be won on the last game, all welcome. Some of last Sunday's winners were: €150 Joan McGuinness €100 Ann Marie McClay, Cornelius Campbell €80 Susanna McShane, Delia Hegarty €70 Debbie McLaughlin, Bernard Shovlin, Nancy Dorrian, Margaret McShane €65 Eithne Boyle €40 Sadie McShane agus Ann McGill,
Club Merchandise
You can buy club merchandise online at our O'Neill's Club Shop and you can buy the beautiful St Bridget's framed picture via our website for more information visit: http://clgchillchartha.com/club-shop
Follow us on Social Media
For the latest news visit our website www.clgchillchartha.com you can also follow us on Facebook and Twitter at facebook.com/CillCharthaGAA and @KilcarGAA you can also follow us on Instagram at kilcargaa on Snapchat at clgchillchartha and on TikToc at @clgchillchartha.