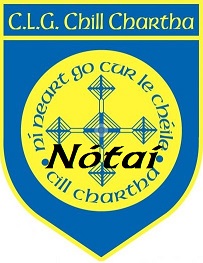 Seniors
Our seniors had another good win on Saturday following a 1-13 to 0-09 win over Gaoth Dobhair in Towney with Eoin Cormac getting the goal meanwhile despite another battling performance our reserves were defeated in the opening match of the day, both sides are away to county champions St Eunans this Sunday.
Club Meeting
This month's Club Meeting takes place in Towney on Thursday 2 June at 9pm all welcome.
Ladies
Our under 16s were narrowly defeated by Carndonagh last Wednesday; they were due to play St Marys, Convoy on Saturday morning in the league quarter final but received a walkover they face Carndonagh this Thursday in the semi-finals with the venue to be confirmed.
Underage
Our under 15s were beaten Naomh Muire last Monday and they visit Four Masters in their final league match this Monday where they will finish the campaign in third place in the league behind Four Masters and Naomh Muire.
Cùl Camps
There are positions available for coaching in this year's Cùl Camps, our camp will run from July 11th to 15th, anyone interested could they contact Michael Mc Shane 087-6781789 Training will be provided by Donegal coach Aaron Kyles.
Coaches must be 18 years of age or over and will receive €250 per week.
Club Lotto - Béidh €10,000 i bPóta Óir na seachtaine seo chugainn
Is iad uimhreacha Lotto ná seachtaine seo nó: 1, 11, 12 agus 23. Buaiteoirí eile: €50 James Byrne, Carrick €30 Paddy Heekin, Garaross  €20 Sean Cannon, Dublin agus Bella Cunningham, Drimreagh. Winners can contact the club at treasurer.kilcar.donegal@gaa.ie with their IBAN and BIC details so payments can be sent straight to your bank account.  Entries can also be purchased at our stand in Centra, locally or online before 6pm each Sunday at this link https://tinyurl.com/y6tx8f64
Online Bingo – Jackpot €10,000
Thanks to all who entered our Online Bingo on Sunday, join us again this Sunday at 8pm login to Zoom from 7:30pm we are playing with a 9 page book at a cost of €10 for a single and a double book is €15, the club will print out books for an extra €1 charge and collection will be in Centra from Saturday afternoon (no deliveries). Total prize money on the night is €1,400. Cut off time is 9pm on Thursdays for club printed books purchased in Centra and 12 noon on Saturday for online books. Please note we send in two bulk orders to the bingo book company, the first goes in on Thursday and these books are emailed out on Friday by the bingo company and the second order goes in just after noon on Saturday, these books are sent that afternoon. Full details on our website at:  https://tinyurl.com/7hhf68ce  
Some of this week's winners were: €150 Margaret Byrne €120 Michael Doherty €80 Mary Byrne, Charlie McBrearty, Michael Daniel O'Donnell, Debbie McLaughlin €50 Kim Cunningham €40 Mary Breslin, Donal Campbell, Leah McDowell, Conor Byrne, Gerard Kane, Ann Boyle, Margaret McGinley, Leitia Doherty, Noel O'Donnell agus Louise McCloskey.
Club Merchandise
We have club gear and merchandise for sale at the GAA Grounds in Towney, you can also buy online at our O'Neill's and O'Reillys Club Shops and you can buy the St Bridget's framed picture via our website for more information visit: http://clgchillchartha.com/club-shop
Follow us on Social Media
For the latest news visit our website www.clgchillchartha.com you can also follow us on Facebook and Twitter at facebook.com/CillCharthaGAA and @KilcarGAA you can also follow us on Instagram at kilcargaa and Snapchat at clgchillchartha.