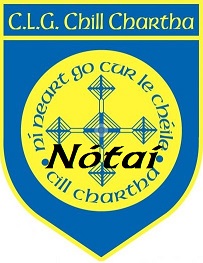 2023 Membership
2023 Club Memberships can now be purchased online at this address: https://clgchillchartha.com/club-membership the rates remain the same, we are having a registration evening in Áislann Chill Chartha on Thursday 23rd February from 8-9:30pm in the computer room for anyone needing help with the online registration or who want to pay by cash.
Donegal
New Donegal captain Paddy McBrearty scored the winning point in their win over Kerry in Ballybofey on Sunday while Ryan McHugh and Brian O'Donnell were unused subs, they travel to Omagh this Sunday to face Tyrone in round two of the league.
Minor Board
The new minor board executive is Chairperson: Declan Gallagher, Vice Chairperson: Brendan Byrne, Secretary: Donna Gallagher best of luck to them and all involved with our underage teams in the coming season.
Ireland Lights Up
This Weeks "Ireland Lights up" in partnership with RTE's "Operation Transformation" takes place on Tuesday evening from 6pm to 8pm under the lights at the training field in Towney, all welcome.
Ladies
Congratulations to Ava Gallagher who has been selected to the Donegal Ladies Minor panel for 2023.
Donegal GAA Annual Club Pass 2023
The 2023 club pass is now available to purchase. Orders for 2023 Club Pass can be made via our secretary (secretary.kilcar.donegal@gaa.ie). This pass will give admission to all Adult League & Championship matches under the control of Donegal GAA for 2023 Season, includes Under 21 Competitions. Does not include competitions at Under 18 grade & bellow.
Club Lotto - Béidh €10,000 i bPóta Óir na seachtaine seo chugainn
Is iad uimhreacha Lotto ná seachtaine seo nó: 5, 12, 14 agus 17. Buaiteoirí eile: €50 Anne Breslin, Shalvey €30 Neil McGinley, Umiskin €20 Annmarie Campbell, Meenboy agus David McShane, Croaghbeg. Winners can contact the club at treasurer.kilcar.donegal@gaa.ie with their IBAN and BIC details so payments can be sent straight to your bank account.  Entries can also be purchased at our stand in Centra, locally or online before 6pm each Sunday at this link https://tinyurl.com/y6tx8f64
Bingo
Bingo this Sunday night in The Parish Hall, €1,400 to be won on the night with the Jackpot of €10,000 still there to be won on the last game, all welcome.
Club Merchandise
You can buy club merchandise online at our O'Neill's Club Shop and you can buy the beautiful St Bridget's framed picture via our website for more information visit: http://clgchillchartha.com/club-shop
Condolences
We wish to pass on our condolences to the family of Cathal Brugha Mac Devitt, Navan and formally Kilcar. Cathal's father Joe Mac Devitt was one of the clubs founding members 99 years ago.
Follow us on Social Media
For the latest news visit our website www.clgchillchartha.com you can also follow us on Facebook and Twitter at facebook.com/CillCharthaGAA and @KilcarGAA you can also follow us on Instagram at kilcargaa and Snapchat at clgchillchartha.