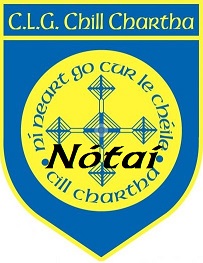 2023 Membership
2023 Club Memberships can now be purchased online at this address: https://clgchillchartha.com/club-membership the rates remain the same.
Club Development Survey
Our Club Development Survey is now open and is available online at this link: https://shorturl.at/crCLV, for those who cannot access the survey online, copies are also available in Áislann Chill Chartha, Centra and the Parish Hall.
This short survey should only take about 10 minutes to complete, and your feedback is an essential part of our development planning process. The survey closes on Sunday, March 12th so please have your submission in before the deadline.
Irish Classes
Tá muid ag iarraidh ranganna Gaeilge a eagrú, líon isteach an fhoirm thíos le do thoil. We are hoping to host Irish Classes, please complete the form below. Faoi 18/Under 18, Os cionn 18/Over 18's are welcome to fill out the form.
Link is below to fill in our form! We also have printed copies available locally.
Go raibh maith agaibh. Má bhíonn a thuilleadh míniúcháin uait, déan teagmháil linn. Nasc: https://forms.gle/LZNHgstnjBY2Q8q9A 
Seachtain na Gaeilge 2023
An chéad Pop-up Gaeltacht i gCill Chartha le CLG Chill Chartha/Kilcar's first Pop-Up Gaeltacht with CLG Chill Chartha Áit: Teach John Joe's, Cill Chartha Dáta: an 3ú Márta Am: 9.30pm Failte roimh achan duine, Cé acu tosaitheoir nó saineolaí thú!! Everyone is welcome, if you are a beginner or an expert!! Bígí linn a chaired.
More info to come/Níos mó le teacht. More info to come/Níos mó eolas ag teacht!
Club Lotto - Béidh €10,000 i bPóta Óir na seachtaine seo chugainn
Is iad uimhreacha Lotto ná seachtaine seo nó: 8, 18, 19 agus 22.
Buaiteoirí eile:
€50 Breege Boyle, Croagh
€30 Trina McShane, Keenaghan
€20 Noreen Cunningham, Straleel agus Michael Curran, Bogagh.
Winners can contact the club at treasurer.kilcar.donegal@gaa.ie with their IBAN and BIC details so payments can be sent straight to your bank account.  Entries can also be purchased at our stand in Centra, locally or online before 6pm each Sunday at this link https://tinyurl.com/y6tx8f64
Bingo
Bingo this Sunday night in The Parish Hall, €1,400 to be won on the night with the Jackpot of €10,000 still there to be won on the last game, all welcome.
Some of last Sunday's winners were: €150 Christine Curran €140 Joan McGuinness €80 Brian Gillespie, Margaret Byrne €70 Linda Lyons, Ellen O'Donnell €60 Marie Carr €50 Cornelius Campbell €40 Teresa Dolan.
Club Merchandise
You can buy club merchandise online at our O'Neill's Club Shop and you can buy the beautiful St Bridget's framed picture via our website for more information visit: http://clgchillchartha.com/club-shop
Follow us on Social Media
For the latest news visit our website www.clgchillchartha.com you can also follow us on Facebook and Twitter at facebook.com/CillCharthaGAA and @KilcarGAA you can also follow us on Instagram at kilcargaa on Snapchat at clgchillchartha and on TikToc at @clgchillchartha.