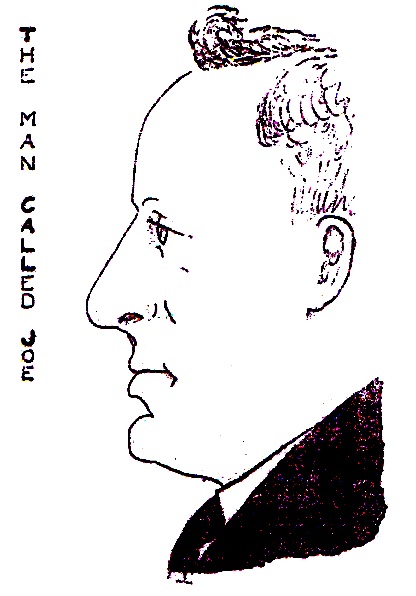 An extract from "A man called Joe" By his son Brugha Mc Devitt
Joe Mac Devitt was born on Ist August 1892, the ninth of twelve children toCharles and Nabla Mac Devitt, Churchtown,  Kilcar. 
He attended Muckross School where his father was teaching. His secondary education was in St. Eunan's College,  Letterkenny and later St. Columb's College, Derry. On the completion of his sojourn in Derry he took the matriculation examination, applied for and was admitted to Maynooth College.  
In  Maynooth College he studied Philosophy, Theology and Celtic Studies) - and also found time to form a company of the Irish Volunteers and one night when drilling in expectation of joining a battalion from Galway on the way to Dublin the Dean demanded that they return to their cubicles. McDevitt's reply became legendary. "How can we sleep when the Capital of our country is in flames'.
He left Maynooth with a B.Ph. (Bachelor Philosophy). He was fortunate to obtain a part time position in St. Enda's that enabled him to complete his degree studies in UCD, Dublin.
Post 1916 was an exciting place to be in. He rose in rank rapidly in the volunteers was very active in Conradh na Gaeilge that was flourishing. His organising ability was well recognised. He was sent from Headquarters to various towns and villages to oversee the development of Volunteer Units in such places as Oldcastle and Beauparc and Virginia. He was now in a full time position in St. Enda's.
By 1920 as the battle campaign intensified Joe Mac Devitt went on full-time active service. He was appointed Director of Organisation in the West with the rank of Commandant. Towards the end of 1920 he was captured at a roadblock and after a severe beating was brought to Belfast Jail for charging and sentencing. He was incarcerated in the condemned cell but was reprieved when the British Officer whom he disarmed following the Lough Arrow Ambush and to whom he had shown courtesy on that occasion refused to testify and identify him. Then followed a long sequence of prisons mainly in Scotland, such as Edinburgh, Peterhead and Inverness at most of which he organised resistance and as a consequence was in solitary confinement
His welcome home to his native Kilcar is the stuff that legends,  able-bodied men removed the pony from the trap and pulled him up and down the village while bonfires blazed on every hill from Slieve League to Cromhmucross.
Joe Mac Devitt was one of those who opposed the treaty.
The  following years were bitter and bloody. Mac Devitt was active in South Mayo North Galway area with the leaders of the Anti treaty forces in the region. He was eventually captured and he avoided execution, he was told, by a mutinous action by some Free State Officers who determined that it would not take place. He was imprisoned in Tintown Camp No. 3 where he completed the hunger strike together with 35. Joe Mac Devitt tells of the ironic situation of arriving in Kilcar, after being released, with no job, no army commission. In contrast to a few years previously there was no one to meet him. The following years must have been very difficult. Nevertheless he was far from idle.
The official establishment of the GAA club in Kilcar came in late 1923, early 1924. There are no minutes available from those first meetings but some of the main participants were Paddy Tim O'Gara, Hugh Gillespie, Leo Murray, Joe McDevitt, Francis Carr, Pat McShane, Columba Carr, etc.
It is recorded in "C.L.G. Chill Chartha 1924 –1984' published in 1984 that 1922 politics had determined that these young lads would never play soccer again. Columba Carr and Joe McDevitt, The Murray's and John Gara got the organisational ball rolling in 1922 and over in Towney they were using a field that the soccer team had been using. They bought another piece of land adjoining it from Biddy Tim for £5.00 in order to level the field off.
Joe McDevitt, more than anyone else, was instrumental in setting up the G.A.A. in Kilcar.  Afterwards Kilcar began to arrange challenge games with Glen and Ardara. Joe McDevitt took over the running and training of the team, using the expertise that he had gained in St. Columb's, Derry, and in Dublin
Joe McDevitt and John Murray represented Kilcar at a South South-West Ticonaill GAA District League meeting, held in Ardara, on Sunday 26th October 1924. The purpose of the meeting was to arrange fixtures and dates for the year 1924-1925. 
Kilcar played its first game v Ballyshannon on 9th November 1924 in Towney. Ballyshannon won with a score of 1-3 to 0-2. The Donegal Democrat reported that:  "on two occasions there were delays whilst the ball was being retrieved from an outgoing tide as Towney Bay came close to the touchline". The Donegal Democrat also reported  "that Joe McDevitt gave entire satisfaction as referee"
Kilcar were declared Donegal Senior Football Champions when Dunfanaghy refused to travel for the final which was due to be played in Letterkenny on 26th July 1925.
At that time he had met a schoolteacher also from Kilcar but teaching on Mein Island off the Gweedore Coastline. They married and set up house in Omagh where he had obtained the position with the Pead Assurance Company. He must have done well because within a short time he was appointed ordinary Branch Inspector with the same firm. He went to live in Limerick. As inspector he had "the run of the country" from Limerick to Sligo. My elder sister Eithne and I were born in Limerick. Ruairi who died in infancy and Sile were born in Fermoy. He was promoted again to the position of District Manager for North Cork and was domiciled in Fermoy.
In the first Sunday in September 1939 we heard the historic statement from Chamberlain that Britain and France had declared war on Germany. The following year Joe Mac Devitt was transferred as District Manager of the Irish Assurance Company to their offices in South Mall, Cork City
In 1941 my mother finally secumed to the regular illness that had beset her over the years. Joe Mac Devitt made a decision that for our upbringing we would be better off among our relations in Donegal. Therefore Christmas 1941 found us in Ballymoon, Kilcar and enrolled in Coguish National School. A vacancy as District Manager arose in Letterkenny and he made a successful application for the post. Wishing to keep the family together he booked us into O'Donnell's Hotel in Letterkenny. Eventually Joe found a house to rent in Rathmullen a seaside village 15 miles from his office in Letterkenny
In 1943 he married my 1st cousin, the niece if his first wife, Nora Carr, Cougish We knew her well and regarded her as part of the family. Four children were born of this marriage, Nuala, Delma, Kevin RIP and Crona. He continued to speak on special occasions. I remember him speaking at Drumboe at the annual commemoration and for Sean Mac Cumhaill an independent Republican candidate in 1944 in the famous old Market Square in Letterkenny.
He renewed his interest in G.A.A. administration and became Chairman of St. Eunan's Club in Letterkenny, in 1946, at a County Convention, held in Ballybofey, he was elected Chairman of the County Board of the G.A.A. He held this position for two years (1946,1947)
In late Spring 1950 Joe told us that he had had a tempting offer. There was a large district in In late Spring 1950 Joe decided to leave Letterkenny and took up a new position in the West of Ireland with Headquarters in Roscommon town. An area comprising all of County Roscommon, East Mayo and part of East Galway as far as Athlone.
He was also active in the pre-truce old I.R.A. association and made many representations for veterans not in receipt of a pension. He also organised appropriate ceremonial at the funerals of these former activists.
After retiring in 1957 he continued to take an interest in drama, angling an increasingly in gardening. He became president of the Drama Festival Committee .
On Saturday 1st June l968 at approximately 9.30a.m.a call came to my front door. l saw an uniformed figure standing there with a fateful message, Joe had died during the early hours of a heart attack. He was three months short of seventy-six years of age. It was indeed ironic that a man who had survived five bullet wounds in military engagements, four hunger strikes, the infamous first word war flu and double pneumonia should succumb to an infection incurred while in hospital for medication to enable him to enjoy the remainder of the dry fly fishing season on the local river.
The C.Y.M.S. requested permission to have a guard of honour at the graveside and the surviving local members of the War of Independence were to march from the Church behind the coffin to the cemetery. A bugler from a Western Command of the National Army would sound the last post. He got a send off worthy of and evocative of his many and varied interests. As we reached the graveyard one-mile from the town the rear of the cortege had not yet left Athlone Road. Maguire's address was eloquent and evocative. Dan O'Rourke the former President of the G.A.A. and former T.D. for Roscommon recited a decade of the Rosary as gaeilge following which the crowd went their separate ways.