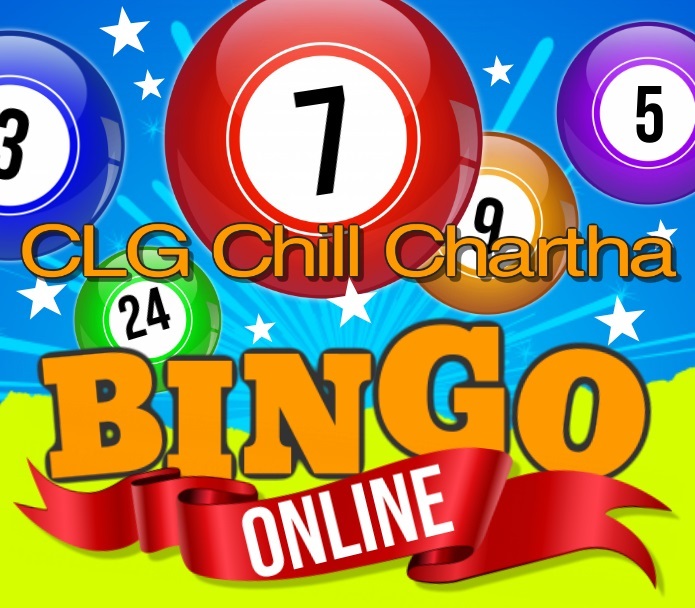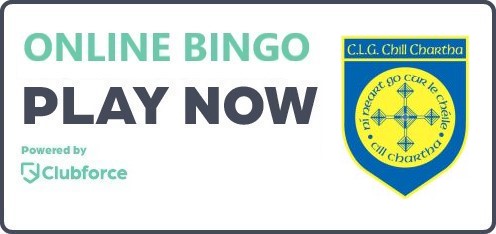 Click the above image to enter
**Thanks to all who supported our online bingo over this past few months
with the easing of Covid restrictions we are resuming Drive in Bingos from Sunday 13 July**
Bingo Starts @ 8:30pm sharp
Join ZOOM from 8pm

€1,200 in prizes & Jackpot is €7,600 on 45 numbers

Entries for bingo close at 12 Midday on Saturday. Any entries after this time will be included in the following week's draw.
For those unable to print at home, you can order books from any of the following and we will print it for you:
John Carr 087 2225599
Jerome Mc Shane 086 6698314
Sean Byrne 087 6758690
Eithne Byrne 087 7604184
Any enquiries email: kilcargaa@gmail.com
Books can also be paid for and  ordered via our stand in Centra before 9pm Thursdays and will be ready for collection from 12:30pm on Saturdays
Closing time for printed books is 9pm on Thursday 
Winners can contact the club at treasurer.kilcar.donegal@gaa.ie with their IBAN and BIC details so payments can be sent straight to your bank account 
Week Thirteen Winners 6 June 2021
€200 Ann Marie Campbell €140 Danielle Harley €130 Aisling Lowther €100 Nancy Dorrian €80 Carmel Lyons, Kevin Lyons €70 Margaret Doherty,  Mary T Byrne €40 Brid Campbell €30 Conor Byrne, Finn Coughlin, Ethna Byrne, Catriona Gallagher, Kathleen Keeney agus Hayley Watson. 
Week Twelve Winners 30 May 2021
€200 Irene McShane €150 Nicola McShane €130 Mary Bourne €110 Maire Byrne €100 Bernie O'Gara €70 Mary Gallagher, Aisling McShane, Louise McCloskey €40 Maire Doogan, Joe Cannon €30 Emer Molloy, Concepta Doogan, Mairead Gallagher, Ann Lowther, Sara McGinley €20 Donal Campbell, Teresa McBrearty €15 Lisa Johnston agus Ann Breslin. 
Week Eleven Winners 23 May 2021
€200 Carmel Ellis €180 Margaret Reilly €100 Michelle Lowther €80 Susanna McShane €70 Laura McCloskey, Brendan Byrne, Sara McGinley, Michelle Gillespie, Aisling McGinley €40 Liam McShane €35 Patrick McShane, Darren Rowan €30 Maeve Doogan, Glenda Dolan, Finn Coughlin, Kathleen Keeney, Eileen Doogan agus Caoimhe Boyle.
Week Ten Winners 16 May 2021
€230 Hayley Coughlin €100 Máire McShane, Michael Molloy €80 Fionnula Garrihy, Kate Meehan €70 Teresa McKelvey, Mary Breslin, Ellen O'Donnell €40 Siobhan McBrearty, Orla Bourne €35 Darren Rowan, Bella Cunningham, Emer Molloy agus Patricia Keir €30 Liam McShane, Ciaran Cannon, Margaret Campbell, Marie McLaughlin, Oisín McShane €15 Mai McCann agus Anne Lowther. 
Week Nine Winners 9 May 2021
€200 Lisa Coughlin €100 Carmel Ellis €95 Sandra McCloskey €80 Shaun Maloney 70 Deirbhile McShane, Cliodhna Byrne, Eileen Doogan, Mary Byrne, Sorcha Ward €65 Bernard Shovlin €40 Michael Molloy, Margaret McGinley €35 Sandra Cannon €30 Michael Doherty, Kiera Boyle, Declan McCloskey, Jackie Deane, Teresa McKelvey, Catriona Gallagher €15 Sandra Martyn. 
Week Eight Winners 2 May 2021
€200 Raymond Hegarty €110 Lisa Johnston €100 Eileen Daniels €80 Joe Canon, Delia Hegarty, Peggy Coughlin, Con Haughey, Bernard Shovlin, Annie Lowther €40 Lorna Frame, Kathleen Gallagher, Ciara Hegarty, Declan McCloskey, Aoife Campbell, Margaret McShane, Donal Campbell, Noel McHugh €30 Michael Doherty, Mary McCloskey, Ann Breslin, Leina Byrne, Cliodhana Byrne, Patricia Keir €20 Mairead Gallagher, Susan Cowley, Paul Boyle, Aisling McShane agus Yvonne McShane. 
Week Seven Winners 25 April 2021
€200 Lorna Frame €130 Maire McLaughlin €120 Stephen Hegarty €95 Laura McCloskey €80 Grace Moohan €75 Carmel Ellis €70 Michael Doherty, Conor Byrne, Sandra Cannon, Olivia Flannigan €35 Joan McGuinness, Goretti Cunningham €30 Emer Molloy, Mary O'Byrne, Michelle Hennigan, Anne Breslin €15 Teresa McKelvey, Debbie McLaughlin agus Ciara Hegarty.
Week Six Winners 18 April 2021
€100 Bella Cunningham, Paul Hegarty, Grace Moohan, Maire Byrne €80 Bernard Shovlin, Declan Gallagher €70 Rosin Harkin, Sarah Gallagher, Ethna Byrne, Ann Lowther €40 Evelyn Boyle Emma Ni Donhaill €35 Margaret Byrne, Con Haughey €30 Mary Gallagher, Catherine Gallagher, Teresa McBrearty, Joey Cannonm Sinead Gallagher, Sarah McGinley €15 Clodagh Brady agus Ciara Hegarty.
Week Five Winners 11 April 2021
€200 Gary Keir €100 Roseleen Boyle, Mary Claire Lyons €80 Kathleen Gallagher, Patrick McShane €70 Sarah Molloy, Patricia O'Gara, Tracey Byrne, Donal Campbell, Claire Byrne €40 Charlie McBrearty €35 Patricia Keir, Susan Cowley €30 Annmarie Campbell, Mary Rafferty, Margaret McShane, Kelsey Bourne €15 Máire Rafferty, Maeve Doogan, Colette McNelis agus Annmarie Doherty.
Special Easter Bingo Winners 4 April 2021
€200 Máire Byrne €150 Ethna Byrne €100 Lisa Johnston, Grace Moohan, Mary T Byrne, Tanya Byrne, Emma O'Donnell, Bridie McSweeney, Gracie O'Hara €50 Goretti  Cunnningham, Shauna Brady, Mary Carr €40 Darren Rowan, Mary Breslin, Noreen McHugh, Orla Gathins, Emer Carr €20 Grannie Reilly, Margaret McGinley €15 Annie McGinley, Catriona Gallagher agus Lisa Doherty.
Week Three Winners 28 March 2021
€200 John Joe Byrne €120 Mary Carr €100 Angela Byrne €80 Caroline Byrne €70 Evelyn McHugh, Marie Cunningham, Bernadette Carr, Charlie McBrearty, Lettia Doherty €45 Susanna McShane €40 Emma Byrne €30 Eileen Doogan, Darren Rawdon, Brendan Byrne, Mickey Doherty €20 Mairead Gallagher, Donal Campbell, Marie McLaughlin, Dermot Gillespie €15 Tracy Byrne, Helena Byrne, Sandra McCloskey, Barry McGinley agus Roseanne Ellis.
Week Two Winners 21 March 2021
€200 Carmel Ellis, €120 John Cunningham, €100 Brid Campbell, €80 Catherine McShane, €70 Margaret McGinley, Sandra Cannon, Margaret Doherty, Pamela Bonner, Mary O'Byrne, Marie Cunningham, Michelle Lowther, Donal Campbell, €30 Ann Breslin, Ian Hegarty, Margaret Carr, Sara Doherty, Roseleen Boyle, Marie Cunningham €10 Roseanne Ellis, Marion Shovlin agus Bridie McSweeney.
Week One Winners 14 March 2021
€200 Donal Campbell, €140 Christina Byrne, €115 Helena Byrne, €100 Caroline McKenna €80 Maeve Doogan €70 Brid McGuinness, Orla Gatins, Patricia McGill €50 Roseanne Ellis, Carmel Ellis €40 Bernie O'Gara and €35 Bernard Shovlin, €30 Teresa Cannon, Michelle McKenna, Michaela Byrne, Patricia O'Gara, Mack Byrne, Lorna McCloskey €20 Annmarie Campbell €15 Karen Gallagher agus Declan Gallagher.