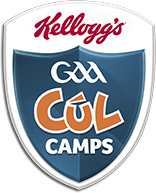 **********There are a limited number of places still available on the Club Cul Camp next week*********
Registration closes at 12pm tomorrow (Friday) for anyone wishing to attend as there will be no in person registration available on Monday
The club Cul Camp will run from Monday 12th July until Friday 16th July.
The Camp will be capped at 100 participants due to Covid.
Please ensure you select the correct gear size for your children as all gear is now being sent to parents addresses and will not be given out during the camp.
Any wrong sizes will have to be sent back to Croke Park and will incur a charge for same.
Please contact Michael McShane on 087 6781789 if you have any queries