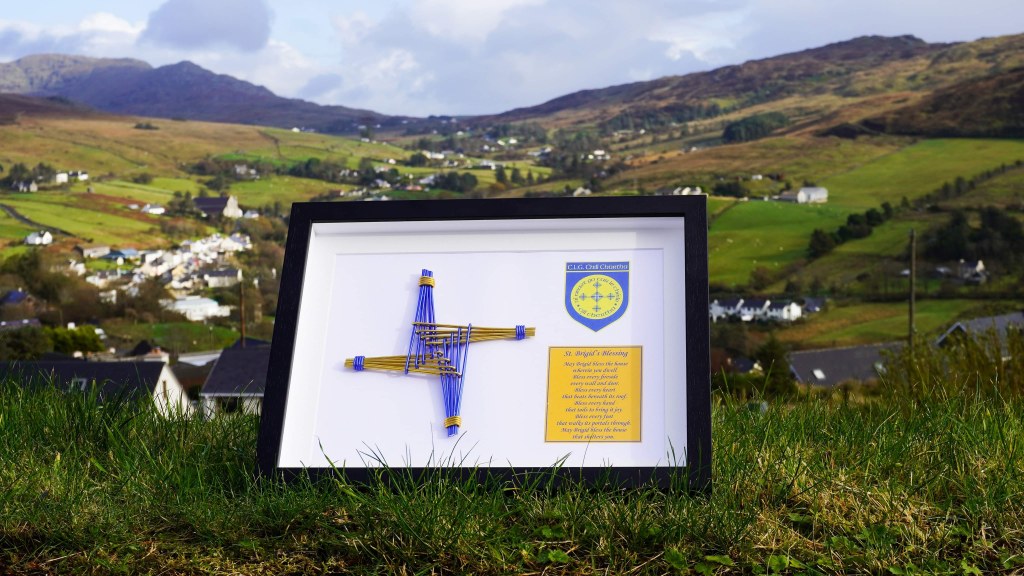 Looking for the ideal hand made Irish made Christmas Gift? We are now taking orders for a unique framed St Bridget's Cross in the club colours along with a blessing all hand made using all Irish products by former club player Gabriel Gillespie originally from Curris who has been living in Co Offaly for this past dozen years.
Each picture costs €120 with a deposit of €50 required and if you are ordering as a Christmas gift we would need the ordering my 30 November to guarantee delivery. You can view the pictures for youself in Centra.
More details bellow:
Hi all,
It's Gabriel Gillespie here, this year I've decided to produce and sell designs that I've have registered with the IPOI.
Thankfully I've received this certification and now with too many late nights to mention I'm able to start selling these products under my business name Meenavean.
The picture frames are available in black or white with the cross made in the Cill Chartha Club colours and the Club crest which was designed by John Carr and a St. Brigid's blessing. Cost is €120 with part of the proceeds going to the club, deposit of €50 required for each order.
If you have any further queries in relation to a purchase, please contact John Carr on 087-2225599 or James Byrne on 086-9969256 before 30 November to place your order to guarantee Christmas delivery as there is a 3 week lead in time.
All sales of the CLG Cill Chartha crosses can only be placed through the club.
Thanks for allowing me the opportunity to make this product and especially for allowing Meenavean to work with such a well-known and respected club such as CLG Chill Chartha.
Pay via PayPal or contact John or James above to arrange deposit/payment