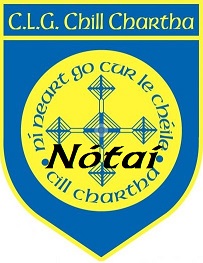 AGM
Our reconvened AGM is on this Friday the 9th December @ 8pm in Áislann Chill Chartha, could as many club members as possible attend as our AGM is one of the most important events of the club calendar.
Under 21s
Our Under 21s travel to Dungloe this Saturday in their final group match with the throw in at 12 noon.
Ten Week Development Draw - Week Seven Winners
€1,000 Ann Heekin, Meenadiff, Glencolmcille
€500 Amy, Liam & Adam McLaughlin, Cashlings
€300 Conal & Marie Cunningham, Cuskerry
€200 Rory O'Gara, Towney
€200 Yvonne O'Gara, Meenacross, Glencolmcille
€200 Lily & Rory Gallagher, Churchtown.
Club Lotto - Béidh €10,000 i bPóta Óir na seachtaine seo chugainn
Is iad uimhreacha Lotto ná seachtaine seo nó: 9, 16, 17 agus 20.
Buaiteoirí eile:
€50 Emma Ní Dhonaill, Caoinachain
€30 Eileen Nic Giolla Easpaig, Malinmore
€20 Taylor, Mia & Patrick McFadden c/o Rose McFadden agus Peggy Ní Eigheartaigh, Ballymacfadden.
Winners can contact the club at treasurer.kilcar.donegal@gaa.ie with their IBAN and BIC details so payments can be sent straight to your bank account.  Entries can also be purchased at our stand in Centra, locally or online before 6pm each Sunday at this link https://tinyurl.com/y6tx8f64
Bingo
Club Bingo is on again in the Parish Hall at 8pm on Sunday, the jackpot is still €10,000.
Some of last Sunday's winners were: €210 Maire Boyle €150 Trina McShane €80 Margaret Byrne €70 Teresa Dolan, Mary Gazley, Eithne Byrne, Ann McGill, Nora Kennedy, Maire Byrne €50 John Cunningham €40 Catherine McGinley agus Mary Breslin.
Club Merchandise
You can buy club merchandise online at our O'Neill's Club Shop and you can buy the beautiful St Bridget's framed picture via our website for more information visit: http://clgchillchartha.com/club-shop
Follow us on Social Media
For the latest news visit our website www.clgchillchartha.com you can also follow us on Facebook and Twitter at facebook.com/CillCharthaGAA and @KilcarGAA you can also follow us on Instagram at kilcargaa and Snapchat at clgchillchartha.