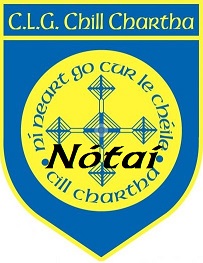 Club AGM
The Clubs AGM will be held on Saturday 27th November at 7.30pm, venue to be confirmed. Fully paid up adult members (over 18) as at the 30th of May can request the nomination and motion forms from the Club Secretary from Monday 1st of November which must be signed and returned to her no later than 5pm on Saturday 14th November. Nomination forms and motions must be signed so membership can be verified. No nomination or motion will be accepted after this deadline. Each club member nominated must receive a minimum of two nominations.
Please ensure that any member nominated is happy for their name to go forward.  The secretary can be contacted via email at Secretary.kilcar.donegal@gaa.ie or message 087 6532678 for forms. All nominations and motions will be available by a link which can be requested from the Secretary along with the Agenda, Secretary's Report and Financial Report, 10 days prior to the AGM.
Donegal Masters
Well done to former club players David, Gerard and Patrick who were part of the Donegal Gaelic Masters side that won the shield at the weekend following their win over Westmeath and congratulations to all involved.
Underage
Our Under 9s host Na Rossa on Saturday morning at 11:30am
Ten Week Draw 2021
Week One Winners
€1000 Patrick Larry Gallagher, Ardara €500 Stephen McBrearty, Curris €300 Gary Gillespie, Carrick €200 Casey Byrne, Bavin, Iarlath, Ultan & Fintan McGill, Letterkenny agus Michael & Tracy Smith, Bavin
Week Two Winners
€1000 Louise Boyle, Towney €500 Ronan McAteer, Glenswilly €300 Paddy & Geraldine Sweeney, Bavin €200 Daniel Byrne, Killybegs, Kelsey Bourne, Letterkenny agus Neil Kelly, Teelin.
Week three draw takes place next Monday evening; you can still buy online for the remaining draws at our website at: https://tinyurl.com/ysdruhda all support greatly is appreciated. 
Club Lotto Jackpot now €7,300
Is iad uimhreacha Lotto ná seachtaine seo nó: 5, 8, 20 agus 27. Buaiteoirí eile: €50 Anne Doherty, Carrick €30 Shaun Maloney, Ardara €20 Brid McCallig, Dunkineely agus Evelyn Boyle, Glencolmcille. Béidh €7,300 i bPóta Óir na seachtaine seo chugainn. Winners can contact the club at treasurer.kilcar.donegal@gaa.ie with their IBAN and BIC details so payments can be sent straight to your bank account.  Entries can also be purchased at our stand in Centra or online before 6pm each Sunday at this link https://tinyurl.com/y6tx8f64
Online Bingo is back – Jackpot €9,600
We are returning to Online Bingo from this Sunday at 8pm login to Zoom from 7:30pm we are playing with a 9 page book at a cost of €10 for a single and €20 for a double, the club will print out books for an extra €1 charge and collection will be in Centra (no deliveries). Total prize money €1,400. Cut off time as before 9pm on Thursdays for club printed books and 12 noon on Saturday for home printed books. Full details on our website at:  https://tinyurl.com/7hhf68ce
Club Merchandise SALE
We still have a club gear sale now on in Áislann Chill Chartha pop down to pick up some bargains! We have new club baseball hats in stock you can purchase these by contacting Jerome McShane or leaving your name with Valerie in the Áislann, we also have club gear for sale in Áislann Chill Chartha, you can also buy online at our O'Neill's Club Shop at https://tinyurl.com/rprf7fa
St Bridget's Cross Picture
Looking for the ideal handmade Irish made gift? You can get a unique framed St Bridget's Cross in the club colours along with a blessing all hand made using all Irish products by former club player Gabriel Gillespie originally from Curris who is now living in Co Offaly. Each picture costs €120 with a deposit of €50 required. More details on our website here: https://tinyurl.com/y5moupnn
For the latest news visit our website www.clgchillchartha.com you can also follow us on Facebook and Twitter at facebook.com/CillCharthaGAA and @KilcarGAA you can also follow us on Instagram at kilcargaa and Snapchat at clgchillchartha.