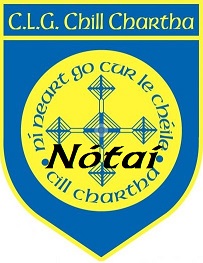 Do you Know your Sport? Update
Since our first updated leaderboard, we've had the snooker, rugby, darts, Europa league and Champions League winners confirmed.  Before Saturdays UEFA Champions League Final, one Coguish man had emerged as the front runner and the man to catch.  Francis Carr was sitting pretty at the top of the table with 30 points and he had a target on his back. 
Following Chelsea's victory in tonight's Champions League Final, Phil O' Donnell has bridged the gap and now there are two current table toppers on 30 points.  Here is our leaderboard as it stands and stay tuned for more updates on the competition http://clgchillchartha.com/doyouknowyoursport  
Donegal
Patrick McBrearty scored eight points and was Man of the Match in the National Division One North draw with Armagh on Saturday in the final group game they now face Dublin in the semi-finals in Cavan on Saturday week, Ryan McHugh played the full 70 mins while Eoin McHugh went of injured in the second half.
Cúl Camps
The club Cul Camp will run from Monday 12th July until Friday 16th July. Registration for this camp will go live on the Cul Camp website www.kelloggsculcamps.gaa.ie from 7.30am Thursday 6th May. The Camp will be capped at 100 participants due to Covid. Please ensure you select the correct gear size for your children as all gear is now being sent to parents addresses and will not be given out during the camp and wrong sizes will have to be sent back to Croke Park and will incur a charge for same. Please contact Michael McShane on 087 6781789 if you have any queries
Online Bingo
 **Could people who order their books online please do so before 9pm Thursday, just for this week, thanks**
Join us at 8:30pm (join us on Zoom from 8) on Sunday for our online bingo with the Jackpot now at €7,600 on 45 numbers and a prize fund of €1,200. Book of 9 games €10 and double book €15. Entries for bingo close Midday on Saturday; any entries after this time will be included in the following week's draw. For those unable to print at home, you can order books from any of the following and we will print it for you: John Carr 087-2225599, Jerome Mc Shane 086-6698314, Sean Byrne 087-6758690 or Ethna Byrne 087-7604184 the deadline for ordering printed books is 9pm on Thursday.  You can now also order your books in Centra, just fill out the pre-printed envelope, put in the amount due and pop it into the slot on the stand before 9pm Thursday and your books will be ready for collection there from 12:30pm on Saturday. You can buy your books online here: https://tinyurl.com/r2hz895c
Last Sunday's Bingo Winners were: €200 Irene McShane €150 Nicola McShane €130 Mary Bourne €110 Maire Byrne €100 Bernie O'Gara €70 Mary Gallagher, Aisling McShane, Louise McCloskey €40 Maire Doogan, Joe Cannon €30 Emer Molloy, Concepta Doogan, Mairead Gallagher, Ann Lowther, Sara McGinley. Full list of weekly winners can be found on the bingo registrations page our website.
Club Lotto Jackpot now €5,100
Is iad uimhreacha Lotto ná seachtaine seo nó: 8, 18, 21 agus 25. Buaiteoirí eile: €50 Antoinette Gillespie, Kille €30 Mary O'Donnell, Straleel €20 David McShane, Croaghbeg agus Ann Marie McDyre. Béidh €5,100 i bPóta Óir na seachtaine seo chugainn. Winners can contact the club at treasurer.kilcar.donegal@gaa.ie with their IBAN and BIC details so payments can be sent straight to your bank account.  Entries can be bought at our stand in Centra or online before 6pm each Sunday at this link https://tinyurl.com/y6tx8f64
Club Shop
Visit our online O'Neill's Club Shop at https://tinyurl.com/rprf7fa  you can find a large selection club gear.
St Bridget's Cross Picture
Looking for the ideal handmade Irish made gift? You can get a unique framed St Bridget's Cross in the club colours along with a blessing all hand made using all Irish products by former club player Gabriel Gillespie originally from Curris who is now living in Co Offaly. Each picture costs €120 with a deposit of €50 required. More details on our website here: https://tinyurl.com/y5moupnn
For the latest news visit our website www.clgchillchartha.com you can also follow us on Facebook and Twitter at facebook.com/CillCharthaGAA and @KilcarGAA you can also follow us on Instagram at kilcargaa and Snapchat at clgchillchartha.