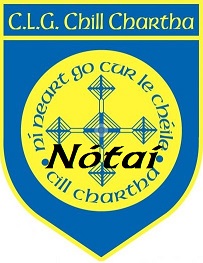 Do you Know you Sport? Closing date for entries this Wednesday!
CLG Cill Chartha are happy to present our 'Know Your Sport' challenge.  We invite you to try this challenge, have a go and see if you really do know your sport.  It's as simple as picking your winners for the many major sports events that will be taking place in 2021. The person who has the most points at the end will be the winner. Will it be you? Visit http://clgchillchartha.com/doyouknowyoursport for details, closing dates for entries is 10pm this Wednesday.
Online Bingo
Our next Bingo will be at 8pm (join Zoom from 7:30pm) this Sunday with the Jackpot now at €6,800 on 45 numbers and a prize fund of €1,200. Book of 9 games €10 and double book €15. Entries for bingo close Midday on Saturday, any entries after this time will be included in the following week's draw. For those unable to print at home, you can order books from any of the following and we will print it for you: John Carr 087-2225599, Jerome Mc Shane 086-6698314, Sean Byrne 087-6758690, Ethna Byrne 087-7604184. Closing date for ordering printed books is 9pm on Thursday. You can buy your books online here: https://tinyurl.com/r2hz895c
Special Easter Bingo Winners were: €200 Máire Byrne €150 Ethna Byrne €100 Lisa Johnston, Grace Moohan, Mary T Byrne, Tanya Byrne, Emma O'Donnell, Bridie McSweeney, Gracie O'Hara €50 Goretti  Cunnningham, Shauna Brady, Mary Carr €40 Darren Rowan, Mary Breslin,  Orla Gathins and Emer Carr. Full list of weekly winners is available on our website.
Club Lotto Jackpot now €4,300
Is iad uimhreacha Lotto ná seachtaine seo nó: 8, 13, 28 agus 29. Buaiteoirí eile: €50 David McShane, Croaghbeg €30 Máire Sheehy, Leitir €20 Paul Boyle, Derrylaughan agus Mary Breslin, Straleel. Béidh €4,300 i bPóta Óir na seachtaine seo chugainn. Winners can contact the club at treasurer.kilcar.donegal@gaa.ie with their IBAN and BIC details so payments can be sent straight to your bank account.  Entries can be bought online before 6pm each Sunday at this link https://tinyurl.com/y6tx8f64
Club Membership 2021
The deadline for 2021 club memberships has been extended by Croke Park for those yet to buy memberships can be bought online at this link https://tinyurl.com/36dtatvm  if you need more information or are unable to use the online system contact Fiona McGinley at 087-9038590 or one of the club executive.
Ladies Lidl Fundraiser Final Week
This is the final week for anyone who shops in Lidl and spend €30 or more on any visit you can help raise money for our ladies teams, you need to download the Lidl app and register Cill Chartha to start saving, more details on the Lidl website here: https://www.lidl.ie/serious-support Thanks to all who have supported this so far as we are almost at the target for a set of jerseys.
St Bridget's Cross Picture
Looking for the ideal handmade Irish made gift? You can get a unique framed St Bridget's Cross in the club colours along with a blessing all hand made using all Irish products by former club player Gabriel Gillespie originally from Curris who is now living in Co Offaly. Each picture costs €120 with a deposit of €50 required. More details on our website here: https://tinyurl.com/y5moupnn
For the latest news visit our website www.clgchillchartha.com you can also follow us on Facebook and Twitter at facebook.com/CillCharthaGAA and @KilcarGAA you can also follow us on Instagram at kilcargaa and Snapchat at clgchillcahartha.