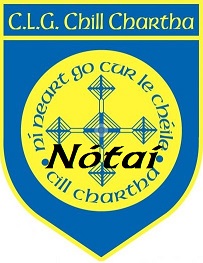 Online Bingo
We held our first online bingo on Sunday night and it was a great success. Thanks to all who entered and all who helped get this up and running, our next Bingo will be at 8pm (join Zoom from 7:30pm)this Sunday with the Jackpot now at €6,500 on 45 numbers and a prize fund of €1,200. Book of 9 games €10 and double book €15. Entries for bingo close Midday on Saturday, any entries after this time will be included in the following week's draw. For those unable to print at home, you can order books from any of the following and we will print it for you: John Carr 087-2225599, Jerome Mc Shane 086-6698314, Sean Byrne 087-6758690, Eithne Byrne 087-7604184. Closing time for printed books is 9pm on Thursday. You can buy your books online here: https://tinyurl.com/r2hz895c
Week One Winners were: €200 Donal Campbell, €140 Christina Byrne, €115 Helena Byrne, €100 Caroline McKenna €80 Maeve Doogan €70 Brid McGuinness, Orla Gatins, Patricia McGill €50 Roseanne Ellis, Carmel Ellis €40 Bernie O'Gara and €35 Bernard Shovlin.
Club Membership 2021
Club memberships can be bought online at this link http://tinyurl.com/36dtatvm  all memberships to be paid before 31 March, if you are unable to use the online system contact Fiona McGinley at 087-9038590 or one of the club executive.
Congratulations Andrew
Congratulations to Andrew Mc Clean who is a Sports Scholarship Recipient this year at IT Sligo more details about the 2021/22 collage year can be found at this link: http://fb.watch/48EBmX0Sc8/
Do you Know you Sport?
CLG Cill Chartha are happy to present our 'Know Your Sport' challenge.  We invite you to try this challenge, have a go and see if you really do know your sport.  It's as simple as picking your winners for the many major sports events that will be taking place in 2021. The person who has the most points at the end will be the winner. Will it be you? Visit http://clgchillchartha.com/doyouknowyoursport for details.
Club Lotto
Is iad uimhreacha Lotto ná seachtaine seo nó: 4, 8, 12 agus 17. Buaiteoirí eile: €50 Peggy Ní Eighteartaigh, Ballymacfadden €30 Majella Hegarty, Loughrea, Co Galway €20 Michael Cunningham, Sandyford, Dublin agus David McShane, Croaghbeg. Béidh €4,000 i bPóta Óir na seachtaine seo chugainn. Entries can be bought online before 6pm each Sunday at this link https://tinyurl.com/y6tx8f64
Ladies Lidl Fundraiser
From Monday 15th February, if you shop in Lidl and spend €30 or more on any visit you can help raise money for our ladies teams, you need to download the Lidl app and register Cill Chartha to start saving, more details on the Lidl website here: https://www.lidl.ie/serious-support
Old underage reports, photos etc wanted
Message from Charlie O'Donnell: I am at present collating some underage game reports etc. If anyone has or knows someone that has any underage (Under 21 all the way down) results, reports, team sheets, photos etc for the years 1980 to 2000 I would be glad to get them.  All material will be copied and returned without delay.
St Bridget's Cross Picture
Looking for the ideal handmade Irish made gift? You can get a unique framed St Bridget's Cross in the club colours along with a blessing all hand made using all Irish products by former club player Gabriel Gillespie originally from Curris who is now living in Co Offaly. Each picture costs €120 with a deposit of €50 required. More details on our website here: https://tinyurl.com/y5moupnn
For the latest news visit our website www.clgchillchartha.com you can also follow us on Facebook and Twitter at facebook.com/CillCharthaGAA and @KilcarGAA you can also follow us on Instagram at kilcargaa and Snapchat at clgchillcahartha.