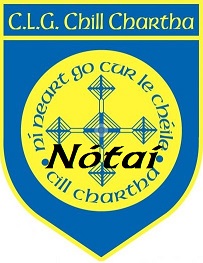 Club AGM
Due to continuing restrictions regarding Covid 19 we are not in a position to hold our AGM in the usual way. New guidelines from Croke Park allow us to hold an "Executive Committee Managed AGM" which will take place on Thursday 4th March.
Following are the guidelines for which fully paid members (at 30th October 2020) can participate with the meeting.
Members can download nomination/motion papers from Friday 5 February or request same from Club Secretary Grainne McBrearty at (087) 653 2678 or email kilcar.donegal@gaa.ie Nominations to serve on the Executive Committee shall be by any two full members in accordance with rule 6.2 in the Official Guide. Only full members paid up to 30th October 2020 shall be eligible for election to the Executive Committee as per rule 6.2 in the Official Guide. All nominations/motions to be returned to the secretary by Friday 12th February.
The following will be posted on our website by Monday 22nd February and can be viewed by secure link which full members can request from the secretary.
Minutes of the 2019 AGM which will be adopted by the Executive Committee at the AGM
Secretary's report for 2020
Treasurer's report for 2020
Chairman's address
List of nominations/motions received
Members are then given the option to submit questions on the secretary and treasurer's reports only and any such questions to be answered within one week of selected date of the AGM.
In the event of a vote for any Executive/Manager positions, full members can request a ballot paper from the Secretary and the onus is on the voter to ensure the vote is returned to the Secretary by Tuesday 2nd March.
Notices of motions will be considered by the Executive Committee and it's advised that any matters that can wait to make them wait and remain conservative.
AOB: Members can submit queries/comments by the same date as nominations/motions (Friday 12th February) which will be considered by the Executive Committee no later than two weeks after the AGM date. Forms are available to download via the website. In advance we would like to thank members for their co-operation and contributions to our upcoming AGM in these difficult times.
Kevin Gillespie RIP
We would like to pass on our condolences to the family and friends of Kevin Gillespie, Dacthan who passed away, Kevin was full back on our 1964 county championship winning minor team. Ar dheis Dé go raibh a anam.
Congratulations Ryan McHugh
We would like to congratulate Ryan McHugh on his Gaelic Life Ulster Club All-Star award that he received during the week.
Club Lotto
Is iad uimhreacha Lotto ná seachtaine seo nó: 7, 8, 15 agus 21. Buaiteoirí eile: €50 Anne Breslin and girls, Shalvey €30 Seamus McHugh, Towney €20 Eamonn McGinley, Kildare agus Michael Cunningham, Sandyford. Béidh €3,500 i bPóta Óir na seachtaine seo chugainn. Entries can be bought online before 6pm each Sunday at this link https://tinyurl.com/y6tx8f64
In the new few weeks we will also have a facility set up in Centra, Kilcar where you can also purchase your entry weekly. Hopefully in the not too distant future when restrictions are lifted we will get back to our normal routine in selling Lotto's and indeed getting our Drive in Bingo up and running again.
Ireland Lights Up 2021
Healthy Club 'Every Step Counts' Challenge
Thank you to all who already registered and that are using the app we are currently in the top 100 clubs in the province and if you are a regular walker/runner and are not already using the app we would love it if you could sign up, the GAA Healthy Club 'Every Step Counts' Challenge in partnership with Irish Life's MyLife App proceeded on Wednesday, January 13th and will run for 7 weeks.
The Every Step Counts Challenge is a virtual challenge; this is the ideal challenge for your club, its members & the wider community to get involved with during the current level of restrictions.
In each province there are 3x O'Neill's vouchers up for grabs - €2,500, €1,500 & €1,000. Any club that tracks more than 4,000km during the challenge will be entered into the prize draw in their province.
To join in follow the steps below:
Download the free MyLife app from Google Play/App Store
Tap on the social tab on the MyLife app
Select challenges
Select the challenge for Ulster
Tap on join & select CLG Chill Chartha
St Bridget's Cross Picture
Looking for the ideal handmade Irish made gift? You can get a unique framed St Bridget's Cross in the club colours along with a blessing all hand made using all Irish products by former club player Gabriel Gillespie originally from Curris who is now living in Co Offaly. Each picture costs €120 with a deposit of €50 required. More details on our website here: https://tinyurl.com/y5moupnn
Drive in Bingo
Suspended until further notice due to Government regulations
For the latest news visit our website www.clgchillchartha.com you can also follow us on Facebook and Twitter at facebook.com/CillCharthaGAA and @KilcarGAA you can also follow us on Instagram at kilcargaa and Snapchat at clgchillcahartha.