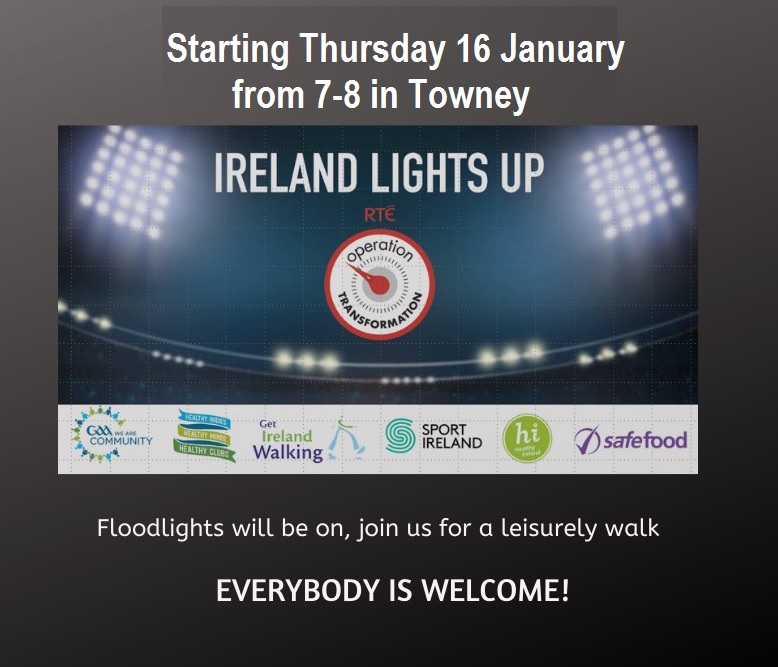 Join us in Towney under the floodlights this Thursday 16th from 7-8pm for a walk as part of RTEs Operation Transformation all ages welcome see more information bellow.
In a bid to make exercise more accessible on the dark winter nights, 'Ireland Lights Up' will see participating clubs turn on their floodlights/lighting systems between 7-pm-9pm each Thursday as Operation Transformation returns to our screens in the New Year.
https://www.getirelandwalking.ie/GAA/
We are delighted to hear your GAA club is coming on board to partake in this year's 'Ireland Lights Up' initiative. More than 270 clubs across the country participated in this exciting initiative last year. This year we hope to double this figure and encourage all clubs who meet the criteria to sign up.
The GAA, in partnership with RTÉ's Operation Transformation, and supported by Healthy Ireland and Get Ireland Walking, hope to bring together communities across the 32 counties to enjoy healthy walks in the safe environs of their own GAA club.
As part of 'Ireland Lights Up' a clear narrative is required to create the biggest impact. This will require all participating clubs to turn on their floodlights and open up their clubs at 7pm each Thursday for six weeks. (Clubs are welcomed to run additional days during this period. However, Thursday evenings are compulsory for the duration of Ireland Lights Up.)