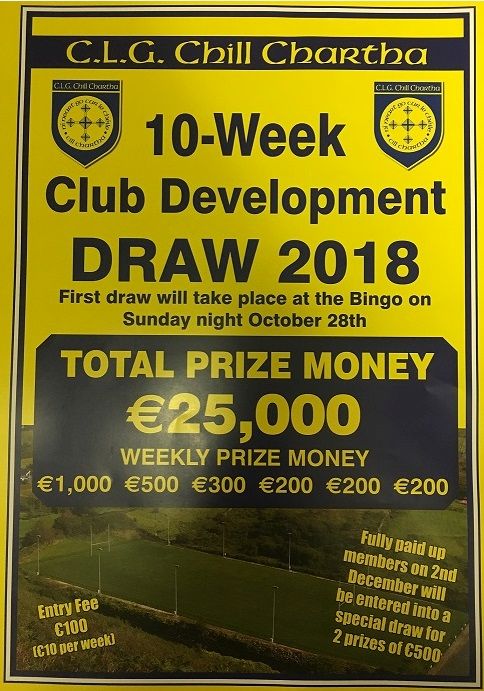 Week Ten Winners
€1000 Siobhain McBrearty, Killybegs
€500 Fiona McGinley, Kilcar
€300 Sara and Matthew McGinley, Kille
€200 Michael Byrne, Killybegs, Noel and Margaret O'Donnell, The Rock and Patsy Gildea, Ardara 
Week Nine Winners
€1000 John Curran, Bogagh
€500 Paddy and Rose Heekin
€300 Noel and Margaret O'Donnell, The Rock
€200 Emma McSweeney, Cruckarra, James McGinley, Derrylaughan and Patrick Cassie, Bogagh
Week Eight Winners
€1000 John Byrne, Ranakillew
€500 John and Alan Doherty, Bogagh
€300 Diana Slattery, Castlegregory, Co Kerry
€200 Joe Haughey, Teelin, Dylan and Eden Molloy, Glenties and Paddy McBrearty, Upper Carrick.
Week Seven Winners
€1000 Barry and Sandra McCloskey, Derrylaughan
€500 Mary Football and Martin Byrne, Towney Field
€300 Adrian Byrne, Byrne's Foodstores
€200 Seamus Byrne, Byrne's Foodstores, Declan Conroy, Rolagh and Delores McShane, Castlecarn/Rathfarnmham
Week Six Winners
€1000 Bridget and John McGinley, Braide 
€500 Noreen Cunningham, Kille 
€300 Nora Byrne, Roxboro 
€200 Adrienne Gormley, Bogadh, Michael Doherty, Bogadh and Joe Cannon, Straleel and Dublin.
Paid up members draw €500 each Daithi Mockler and Mary Football
Week Five Winners
€1000 Aodh O'Donnell, Derrylathan
€500 Trevor McBrearty, Drimnafinagle
€300 Maureen, John and Brian, Derrylathan
€200 Roseleen Curran, Bogagh, Maura Clarke, Curris and Cait Boyle, Straleel. 
Week Four Winners
€1000 Barbara Hegarty, An Glasan
€500 Tara Gillespie, Cille
€300 Nicola Doogan, Drimreagh
€200 Paddy McDevitt, Drimnafinigle, Gerry Lyons, Cashel and Bernadette Nic Giolla Easpaic, Roalgh
Week Three Winners
€1000 Joe Haughey, Teelin
€500 Annie Deane, Cruckarra 
€300 Fr Eddie Gallagher, Parochial House
€200 Paddy O'Donnell, Bavin, Stephen O'Byrne, Lucan and Patrick Breslin, Bruckless
Week Two Winners
€1000 Finn Kuipers c/o Paddy Gallagher 
€500 Kate Meehan c/o Mary Football 
€300 Martina Deane, Cruckarra 
€200 Olivia Doogan, Drimreagh, Seamus McHugh, Teelin and Don Monaghan, Donegal Tyres
Week One Winners
€1000 Declan Meehan c/o Mary Football 
€500 Michael Byrne, Conlin, Killybegs 
€300 James McGuinness, Largy 
€200 Packie Haughey, Cruckarra, Sean Hegarty, Derrylaghan and Malachy Haughey, Cashlings