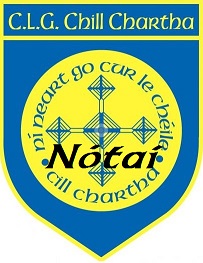 Our seniors and reserves finished their group championship campaign with three wins from three following their wins over Termon in Towney on Sunday afternoon. Our seniors play Killybegs in the Quarter Final at 6:45pm in Ballybofey this Saturday and the match will be live on RTE TV while the reserves play Glenswilly at 2pm in Glenties also on Saturday. Ádh mór don bheirt fhoireann.
Ladies
Commiserations to our ladies who were defeated by a strong Downings team in the county Junior B final on Saturday morning.
Underage
Our minors had a good win over Letterkenny Gaels this Friday at 6:30pm in Towney in the league while our Under 13s travel to Aodh Ruadh on Tuesday in the league.
Club Gear
Our new online Club Shop is now up and running you can find more details on our website while we still have Club Gear for sale in Áislann Chill Chartha with adult and kid's club home jerseys, half zip tops, polo shirts, bobble hats, jackets, hoodies, stickers, shorts, DVDs etc .
Clubforce App
Download the Clubforce App to play our online Lotto and we will be using the app to send club updates etc we will be discontinuing the current Club App in the future download the free app at: https://member.clubforce.com//mcfapp.asp or look for "Clubforce App" in Google Play or Apple App Store.
Bingo Jackpot €10,000
There was no winner of the Jackpot so it's still €10,000 on 45 numbers; Club Bingo is on in The Parish Hall on Sunday nights at 8:30pm thanks to all who continue to support our Bingo! €150 Teresa Gallagher €145 Una O'Gara €120 Bernie O'Gara €110 Ann Lowther €70 Susie Gillespie, Breege McGuinness, Christine Moore, Breege Byrne, Anette McHugh and Marie Cunningham.
Toradh an Lotto
Is iad uimhreacha Lotto ná seachtaine seo nó: 5, 10, 12 agus 15. Buaiteoirí eile: €50 Peter Byrne, Largymore €30 Lora, Towney Bay House €20 Emma Cunningham, Kille and John Murrin, Killybegs. Béidh €7,000 i bPóta Óir na seachtaine seo chugainn. You can now enter our club lotto's draws online see our website for details.
Bás an tEaspag Séamus Ó hÉigeartaigh
Fuair iar-Easpag Rath Bhotha agus Dhoire Séamus Ó hÉigeartaigh, a rúgdh agus a tógadh i gCill Chartha, bás in Otharlann Leitir Ceanainn Dé hAoine 20 lá Meán Fómhair. Cuireadh é i Reilig na hArdeaglaise i nDoire i ndiaidh Aifreann an mheánlae in Ard-Eaglais Naomh Eoghan i nDoire ar an Lúan 23 lá.
Fuair ​​sé a chuid oideachais i Scoil Náisiúnta Cill Chartha, i gColáiste Naomh Adhamhnáin, i Leitir Ceanainn, agus i gColáiste Phádraig, Maigh Nuad, ó 1959 go 1966. Bhain sé céim amach i Staidéar Cheilteach agus labhair sé Gaeilge, Béarla agus Gearmáinis go líofa . Ordaiódh é mar shagart ar an 19 Meitheamh 1966.
Mhúin sé i gColáiste na Croise Naofa, an Fál Carrach, áit a raibh sé ina Uachtarán (1971-1981). B'é an chéad Phríomhoide ar Phobalscoil Chloich Cheannfhaola nuair a bunaíodh é i 1973. Bhí sí ina shagart cúnta i Srath an Urláir nuar a ceapadh é mar Easpag ar Dheoise Rath Bhotha i 1982. Ceapadh é mar Easpag ar Dheoise Dhóire i 1994. De bharr droch shláinte d'éirigh sé as a phost mar Easpag i 2011.
Bhí sé mar phatrúin ar ár gcumann C.L.G i gChill Chartha agus bhí suim mhór aige i ngach gné de Chumann Lúthchleas Gael ní amháin i gCill Chartha ach ar fud ná tire.
Déanaimid comhbhrón lena theaghlach; a dheartháir Diarmaid, a dheirfiúr Máire agus lena chomhghleacaithe idir shagairt agus easpaig.
For the latest news visit our website www.clgchillchartha.com you can also follow us on Facebook and Twitter at facebook.com/CillCharthaGAA and @KilcarGAA you can also follow us on Instagram at kilcargaa and Snapchat at clgchillcahartha.