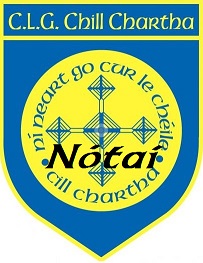 Bhí an buadh ag ar fhoireann Sinsir ar Naomh Columba, i gComórtaisi Peile na Gaelachta ar an Satharn 2 Marta, leis an scór Cill Chartha 0-15 Naomh Columba 0-4. Dimir Cill Chartha leis an gaoth, gaoth mhór á bhí ann, ins an chead leath agus bhí ceannas iomlan acu ag leath ama leis an scór 0-14 lé 0-0. Béidh siad ar imirt Ard á'Ratha nó Gaeil Fhanada ins an cluiche ceathrú ceannais. Caill an fhoireann Soisear a gcluiche in eadan Gleann Fhinne."Ní raibh an gaoth leo". Béidh na mná ag imirt Naomh Columba, i dTamhnaigh, ag 11.00 Lá Padraig.
Club Memberships
We are holding another registrations evening on Friday in Áislann Chill Chartha from 6-8pm from this year we will be doing all memberships online but you can still fill out the forms at the registration evening and we will show you how to register online or you can pay your membership online via our website.
In association with Áislann Chill Chartha, we are offering the following: All adult CLG Chill Chartha members who have paid their club membership by 31st March, will be able to get one year's gym membership for €50 (€50 discount). All students (over 16 and in full time education) fully paid by 31st March will be able to get one year's gym membership for €30 (€50 discount).
Ladies
The training and development session for girls from age 5 to 9 years will start next Tuesday (5th of March) from 6-7pm in Towney. This is separate to all other trainings each week. If you would like your child to be involved or would like more information please contact Grainne McBrearty on 087 6532678.
Underage
Our Under 16s were defeated by Killybegs in Towney on Sunday they travel to Bundoran this Sunday in their third match of the season.
Ireland Lights Up
Join us in Towney under the floodlights this Monday and Thursday from 7-8pm for a walk as part of RTEs Operation Transformation "Ireland Lights Up" campaign in a bid to make exercise more accessible on the dark winter nights, 'Ireland Lights Up' will see participating clubs turn on their floodlights/lighting systems between 7-pm-9pm .
Club Gear
Club Gear for sale in Áislann Chill Chartha with adult and kid's club home jerseys, half zip tops, polo shirts, bobble hats, jackets, hoodies, stickers, shorts, DVDs etc . New online Club Shop will be up and running in around a month's time.
FREE Mobile CLG Chill Chartha Club App
We have 253 members on our FREE mobile app if you would like to sign up just follow these steps to download your free team App for CLG Chill Chartha. 1. On your phone or iPad go to the app store 2. Search for Team App 3. Install Team App to your phone 4. Search for CLG Chill Chartha 5. Log in and register for the CLG Chill Chartha Club app. 6. You will receive an email notification when you are added you to the system.
Bingo Jackpot €10,000
There was no winner of the Jackpot so it's still €10,000 on 45 numbers; Club Bingo is on in The Parish Hall on Sunday nights at 8:30pm thanks to all who continue to support our Bingo! €150 Breege Byrne €140 Máire McShane €110 Rosemary Ellis €70 Joan McGuinness, Una O'Gara, Margaret O'Donnell, Máiread Gallagher, Margaret Byrne and Mary Breslin.
Toradh an Lotto
Is iad uimhreacha Lotto ná seachtaine seo nó: 1, 21, 23 agus 28.
Ní raibh buaiteoir ar bith ar an Póta Óir. Buaiteoirí eile: €50 Francie Haughey, Kilbeg €30 Patricia O'Gara, Glen €20 Bella Cunningham, Drimreagh and Paul Rafferty, Drimreagh. Béidh €4,100 i bPóta Óir na seachtaine seo chugainn.
The club would like to extend its sincere sympathy to the family and friends of Brid Butler, Shannagh. Ar dheis Dé go raibh a hanam
For the latest news visit our website www.clgchillchartha.com you can also follow us on Facebook and Twitter at facebook.com/CillCharthaGAA and @KilcarGAA you can also follow us on Instagram at kilcargaa and Snapchat at clgchillchartha.