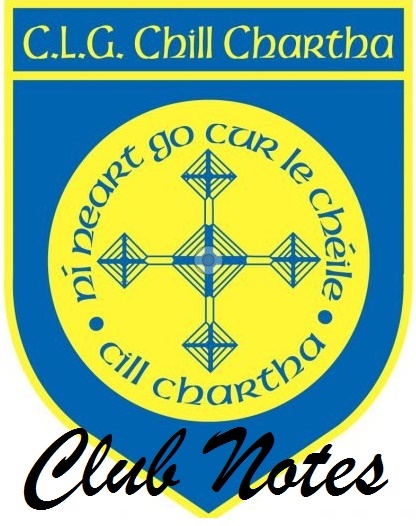 On Saturday we got the sad news of passing of Connie Hegarty (Connie Andy), Crowkerragh who was a former player and team captain. The late 60's were difficult years for the GAA in South-West Donegal. Emigration robbed the area of its youth resulting in the amalgamation of the clubs from Glencolmcille to Dunkineely in order to field teams. A revival started in Kilcar in the early 70's and in 1971 Kilcar won the Donegal Junior Football Championship. This win was no doubt a pivotal event in the clubs history and the members of this 1971 team guided the club through the 1970's and 1980's. Connie Hegarty was captain of that Kilcar team and will always be remembered as a Championship winning captain. His family have all followed his great love for the game with his son Michael being one of the greatest players who ever pulled on the Blue and Gold of Kilcar and the Green and Gold of Donegal, we offer our prayers and condolences to his sons Martin, Michael, Noel and Paddy his daughters Eileen and Coleen to his grandchildren, all his family and many friends we also remember his wife Breege who passed away 16 years ago at this time. Is cúis mhór bróin dúinn anseo i gCill Chartha go bhfuil Connie, ár laoch, ar lár. Déanaimid comhbhrón lena chlann agus lena mhuintir.
Ten Week Draw Winners
Week One Winners: €1000 Declan Meehan c/o Mary Football,€500 Michael Byrne, Conlin, Killybegs, €300 James McGuinness, Largy, €200 Packie Haughey, Cruckarra, Sean Hegarty, Derrylaghan and Malachy Haughey, Cashlings
Week Two Winners: €1000 Finn Kuipers c/o Paddy Gallagher, €500 Kate Meehan c/o Mary Football, €300 Martina Deane, Cruckarra,  €200 Olivia Doogan, Drimreagh, Seamus McHugh, Teelin and Don Monaghan, Donegal Tyres
2018 AGM
This year's Club AGM takes place on Sunday 25th November in the Parish Hall at 3pm.
Ladies Board Cash for Clubs
Our Ladies Board have extended the "Cash for Clubs" event so if you have any of the following then bring them to Towney before Saturday 10 November, all clothing, shoes, belts, bags, hats, bed linen and curtains (no quilts or blankets please).
Underage
The Annual Underage Presentation Night takes place on Friday 23 November at 7pm in The Blue Haven.
Club Gear
Club gear on sale in Áislann Chill Chartha with adult and kid's club home jerseys, half zip tops, polo shirts, bobble hats, jackets, hoodies, stickers, shorts, DVDs etc
FREE Mobile CLG Chill Chartha Club App
We have 251 members on our FREE mobile app if you would like to sign up just follow these steps to download your free team App for CLG Chill Chartha. 1. On your phone or iPad go to the app store 2. Search for Team App 3. Install Team App to your phone 4. Search for CLG Chill Chartha 5. Log in and register for the CLG Chill Chartha Club app. 6. You will receive an email notification when you are added you to the system.
Lotto Results
There was no winner of the Club Lotto Jackpot so next week's Jackpot is €2,400 this week's numbers were 15, 17, 25 and 30 this week's winners were: €50 Noelle Campbell, Main Street €30 Mary T Byrne, Churchtown €20 Ian Gallagher, Frosses and Delia Hegarty, Cruckarra 
Bingo Jackpot €8,900
There was no winner of the Jackpot so it's now €8,900 on 45 numbers; Club Bingo is on in The Parish Hall on Sunday nights at 8:30pm thanks to all who continue to support our Bingo! This week's winners were:  €150 Rose Byrne €80 Annie Deane €70 Grannie McBrearty, Eileen Wilson, Andrea Doherty, Maire Byrne, Patricia Cunningham and Margaret O'Donnell.
For the latest news visit our website www.clgchillchartha.com you can also follow us on Facebook and Twitter at facebook.com/CillCharthaGAA and @KilcarGAA you can also follow us on Instagram at kilcargaa and Snapchat at clgchillchartha.