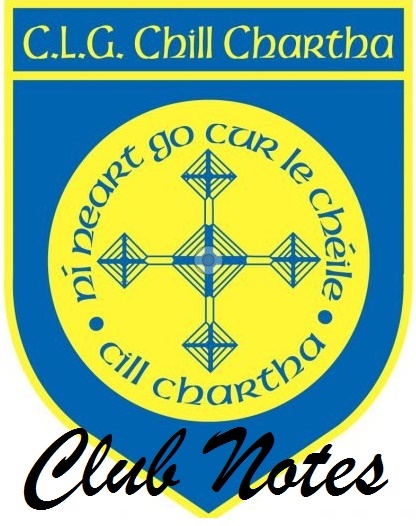 Good luck to Donegal in the McKenna Cup final this Saturday in Armagh against Tyrone, all of our players played at some stage  in Donegal's defeat to Dublin on Saturday with Paddy McBrearty again top scorer thats 0-26 in the league he has scored so far.
TV's Greatest Gameshows Fundraiser
CLG Chill Chartha proudly present a night of TV'Äôs Greatest Gameshows in the Blue Haven on Sunday March 18th kicking off at 8pm with Admission 'ā¨10 for Adults and 'ā¨5 for Students. The chosen games on the night include Family Fortunes, The Weakest Link, Countdown and A Question of Sport. Four special hosts have been chosen for each Gameshow and all contestants have been carefully handpicked to take part in each game also. An inside to the hosts and all the contestants will be let known in the weeks leading up to the big night itself. It'Äôs sure to be a great nights entertainment with a difference as we pick the brains of the best in the Parish and beyond, have they got what it takes, come along on the night and find out, more information in the coming weeks.
Comórtas Peile Dun na nGall
Sinsear Cloich Cheann Fhaola v Chill Chartha roimh 24/25√ļ Feabhra agus S√≥sear Naomh M√≠che√°l v Cill Chartha roimh 3/4√ļ M√°rta.
Club Gear
We have club gear on sale in √Āislann Chill Chartha with adult and kid'Äôs club home jerseys, half zip tops, polo shirts, bobble hats, jackets, hoodies, stickers, shorts, DVDs we also will have flags, bunting and other merchandise on sale also available are the 2017 county final and homecoming DVDs.
FREE Mobile CLG Chill Chartha Club App
We have 247 members on our FREE mobile app if you would like to sign up just follow these steps to download your free team App for CLG Chill Chartha. 1. On your phone or iPad go to the app store 2. Search for Team App 3. Install Team App to your phone 4. Search for CLG Chill Chartha 5. Log in and register for the CLG Chill Chartha Club app. 6. You will receive an email notification when you are added you to the system.
Club Lotto
There was no winner of the Club Lotto Jackpot so next week'Äôs Jackpot is 'ā¨5,900 this week'Äôs numbers were 6, 8, 18 and 16 this week'Äôs winners were: 'ā¨50 Con Haughey, Kilbeg 'ā¨30 Francis Byrne, Ballymacfadden 'ā¨20 Kevin Lowther and Liam Doherty, Leitir.
Bingo Jackpot still at 'ā¨10,000
There was no winner of the Jackpot so it'Äôs still 'ā¨10,000 on 45 numbers; Club Bingo is on in The Parish Hall on Sunday nights at 8:30pm so please support to be in with a chance of winning the Jackpot and thanks to all who continue to support our Bingo! This week'Äôs winners were: 'ā¨150 Joan Ellis 'ā¨100 Mary Tuberty, Gracie O'ÄôHara 'ā¨80 Margaret McShane, Grace Moohan 'ā¨70 Teresa McBrearty, John Cunningham, Ethna Diver, Joe Haughey, Frank Gallagher and Breege Campbell.
We would like to pass on our sincere condolences to the family of Máire Carr, Main Street who sadly passed away on Tuesday. Ar dheis Dé go raibh a hanam
For the latest news visit our website www.clgchillchartha.com you can also follow us on Facebook and Twitter at facebook.com/CillCharthaGAA and @KilcarGAA you can also follow us on Instagram at kilcargaa.