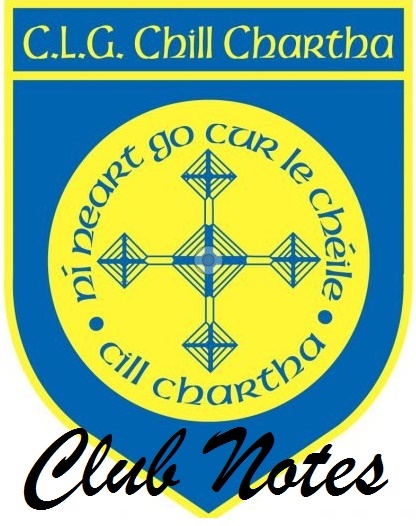 We express our condolences to the family of the late Prionnsias Carr, he was a highly respected businessman in the village and was club treasurer from 1951 to 1976 may he rest in peace we also we pass our condolences to the Deane, McLoughlin and Cannon family Straleel on their recent bereavements.
Comórtas Peile Dun na nGall
Sinsear Cloich Cheann Fhaola v Chill Chartha roimh 24/25√ļ Feabhra agus S√≥sear Naomh M√≠che√°l v Cill Chartha roimh 3/4√ļ M√°rta.
Club Meeting
Rescheduled club meeting this Monday in Towney at 8:30pm all welcome.
Club Gear
We have club gear on sale in √Āislann Chill Chartha with adult and kid'Äôs club home jerseys, half zip tops, polo shirts, bobble hats, jackets, hoodies, stickers, shorts, DVDs we also will have flags, bunting and other merchandise on sale also available are the 2017 county final and homecoming DVDs.
FREE Mobile CLG Chill Chartha Club App
We have 247 members on our FREE mobile app if you would like to sign up just follow these steps to download your free team App for CLG Chill Chartha. 1. On your phone or iPad go to the app store 2. Search for Team App 3. Install Team App to your phone 4. Search for CLG Chill Chartha 5. Log in and register for the CLG Chill Chartha Club app. 6. You will receive an email notification when you are added you to the system.
Club Lotto
There was no winner of the Club Lotto Jackpot so next week'Äôs Jackpot is 'ā¨5,800 this week'Äôs numbers were 4, 13, 14 and 16 'ā¨50 Brendan Curran, Gortalia 'ā¨30 Anna Cannon, Keenaghan 'ā¨20 Declan Callaghan, Leitir and Margaret Brady, Towney. Results from 28 January numbers were: 3, 7,11 and 25 winners were: 'ā¨50 Ann and Aodhan McGinley, Derrylaghan¬†'ā¨30 Padraig Doherty, Bogagh 'ā¨20 Theresa Ward, Killybegs and Joe Haughey, Teelin.
Bingo Jackpot still at 'ā¨10,000
There was no winner of the Jackpot so it'Äôs still 'ā¨10,000 on 45 numbers; Club Bingo is on in The Parish Hall on Sunday nights at 8:30pm so please support to be in with a chance of winning the Jackpot and thanks to all who continue to support our Bingo! This week'Äôs winners were: 'ā¨150 Roseann Ellis 'ā¨100 Bella Cunningham, Emma Gallagher, Marion Boyle 'ā¨90 Theresa Gallagher 'ā¨70 Eileen Gallagher, Marie Gillespie, Andrea Doherty, Margaret Doherty, Rose Byrne, Annie Mcginley, Eamon Doherty and Catherine McGuinness. Winners from Sunday 28 January were 'ā¨140 Margaret Byrne 'ā¨80 Patricia Cunningham, Eileen Curran 'ā¨75 Breege Byrne and Marie Cunningham 'ā¨70 Emma Gallagher, Mary Dorrian and Margaret Doherty.
For the latest news visit our website www.clgchillchartha.com you can also follow us on Facebook and Twitter at facebook.com/CillCharthaGAA and @KilcarGAA you can also follow us on Instagram at kilcargaa.