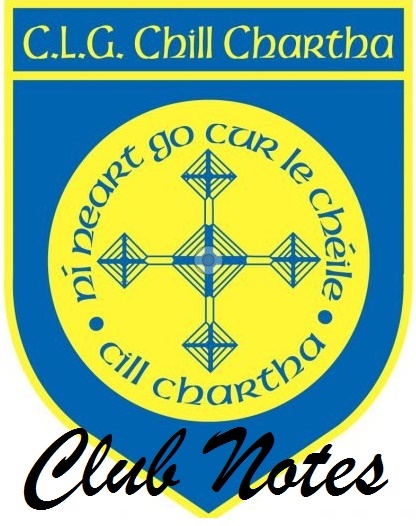 Patrick McBrearty was top scorer with eight points as Donegal secured a first McKenna Cup final since 2010 in Derry on Saturday evening follwoign a 0-20 to 1-10 win against Armagh, Stephen McBrearty was a second half sub and scored three points while Ciaran McGinley also come on second half they face Tyrone in the final next month, Donegal start their National League campaign this Sunday in Killarney against Kerry we wish the team and management the best of luck this coming season.
Club Gear
We have club gear on sale in Ɓislann Chill Chartha with adult and kidā€™s club home jerseys, half zip tops, polo shirts, bobble hats, jackets, hoodies, stickers, shorts, DVDs we also will have flags, bunting and other merchandise on sale also available are the 2017 county final and homecoming DVDs.
FREE Mobile CLG Chill Chartha Club App
We have 247 members on our FREE mobile app if you would like to sign up just follow these steps to download your free team App for CLG Chill Chartha.Ā 1. On your phone or iPad go to the app store 2. Search for Team App 3. Install Team App to your phone 4. Search for CLG Chill Chartha 5. Log in and register for the CLG Chill Chartha Club app. 6. You will receive an email notification when you are added you to the system.
Club Lotto
There was no winner of the Club Lotto Jackpot so next weekā€™s Jackpot is ā'¬5,600 this weekā€™s numbers were: 3, 4, 9 and 26 winners were: ā'¬50 Fiona Curran, CastlecarnĀ ā'¬30 Donal Doherty, Bogagh ā'¬20 Hugh Cunningham, Croaghbeg and ƚna Oā€™Gara, Gannew.
Bingo Jackpot ā'¬10,000
There was no winner of the Jackpot so itā€™s still ā'¬10,000 on 45 numbers; Club Bingo is on in The Parish Hall on Sunday nights at 8:30pm so please support to be in with a chance of winning the Jackpot and thanks to all who continue to support our Bingo! ā'¬150 John Conwall ā'¬80 Kathleen Carr, Roseanne Ellie ā'¬70 Mary MaCallan, Christina Gillepsie, Marion Boyle, Jacqueline Gallagher, Mairead Gallagher, Anne McGinley, Mary Gaisley and Suzanne McShane.
For the latest news visit our websiteĀ www.clgchillchartha.com you can also follow us on Facebook and Twitter at facebook.com/CillCharthaGAA and @KilcarGAA you can also follow us on Instagram at kilcargaa.