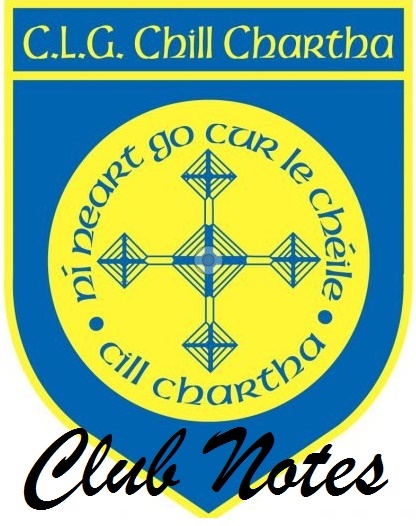 The 2017 Club Dinner Dance takes place in The Blue Haven on Saturday 30 December with music by The Minor Tones followed by disco with Ciaran Cannon tickets are 'ā¨35 each more details in the coming weeks. The club will be selling gear at the √Āislann Christmas Market this Saturday so if you'Äôre about it'Äôs a chance to pick up some Christmas gift ideas!
Underage Presentations Night
The 2017 Underage Presentations night will take place in The Blue Haven on Friday 1st December at 7pm
Club Gear
We have club gear on sale in √Āislann Chill Chartha with adult and kid'Äôs club home jerseys, half zip tops, polo shirts, bobble hats, jackets, hoodies, stickers, shorts, DVDs we also will have flags, bunting and other merchandise on sale also available are the 2017 county final and homecoming DVDs.
Ten Week Development Draw
Week 5 Winners
'ā¨1000 Patsy Meehan, Donegal Town 'ā¨500 Paddy McBrearty, Curris 'ā¨300 Padriag Doogan, Crove 'ā¨200 Emma McSweeney, Kilcar, Patricia Cunningham, Strabrinna and David Alcorn. Extra draw for paid up members takes place this Sunday we will be collecting money in the Parish Hall from 7-8pm.
FREE Mobile CLG Chill Chartha Club App
We have 247 members on our FREE mobile app if you would like to sign up just follow these steps to download your free team App for CLG Chill Chartha. 1. On your phone or iPad go to the app store 2. Search for Team App 3. Install Team App to your phone 4. Search for CLG Chill Chartha 5. Log in and register for the CLG Chill Chartha Club app. 6. You will receive an email notification when you are added you to the system.
Club Lotto
There was no winner of the Club Lotto Jackpot so next week'Äôs Jackpot is 'ā¨4,700 this week'Äôs numbers were: 6, 9, 12 and 22 winners were: 'ā¨50 Katrina and Debbie, Towney 'ā¨30 Marian Boyle, St Cummins Hill, Killybegs 'ā¨20 Eileen Gallagher, Killybegs and Piara, Hugh and Saoirse O'ÄôDonnelll, Doineleatha
Bingo Jackpot 'ā¨10,000
There was no winner of the Jackpot so it'Äôs still 'ā¨10,000 on 45 numbers; Club Bingo is on in The Parish Hall on Sunday nights at 8:30pm so please support to be in with a chance of winning the Jackpot and thanks to all who continue to support our Bingo! This week'Äôs winners were: 'ā¨150 M√°ire Byrne 'ā¨110 Catherine McBrearty 'ā¨80 Fidelma Bourke, Sheila Hegarty 'ā¨70 Breege Boyle, Bernard Shovlin, Mary Dorrian, Christina Curran, Helena Byrne and Oliver Boyle.
For the latest news visit our website www.clgchillchartha.com you can also follow us on Facebook and Twitter at facebook.com/CillCharthaGAA and @KilcarGAA you can also follow us on Instagram at kilcargaa.