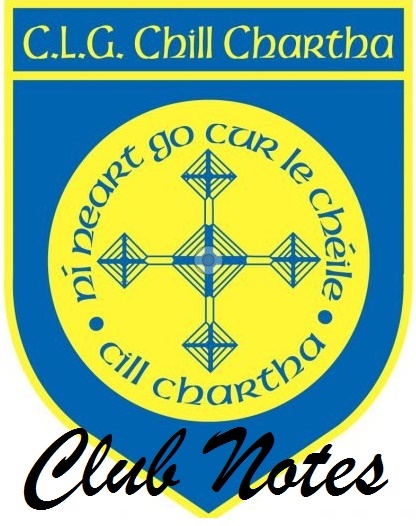 Our seniors defeated Bundoran 2-16 to 3-08 in Towney on Sunday to stay top of the league two points clear of St Eunans mid-way through the league season the reserve match was cancelled, no matches scheduled at the moment for this weekend. Best of luck to Donegal who take on Longford in the qualifiers on Saturday evening in Ballybofey. Our ladies face MacCumhaill on Tuesday evening in the league at 8pm, best of luck to Donegal Ladies in the Ulster Final against Monaghan on Sunday.
5k Fun Run/Walk - Ladies Team Fundraiser
Thanks to all who supported our successful 5k Run/Walk.
C√ļl Camp
This year'Äôs C√ļl Camp takes place in Towney from 17-21 July contact Michael Molloy at 087-2066513 for info or visit our website.
Club Gear
We have a large selection of club gear on sale in √Āislann Chill Chartha with adult and kid'Äôs club home jerseys, half zip tops, polo shirts, bobble hats, jackets, hoodies, stickers, shorts, DVDs etc.
FREE Mobile CLG Chill Chartha Club App
We have 242 members on our FREE mobile app if you would like to sign up just follow these steps to download your free team App for CLG Chill Chartha. 
1. On your phone or iPad go to the app store 2. Search for Team App 3. Install Team App to your phone 4. Search for CLG Chill Chartha 5. Log in and register for the CLG Chill Chartha Club app. 6. You will receive an email notification when you are added you to the system.
Club Lotto
There was no winner of the Club Lotto Jackpot so next week'Äôs Jackpot is 'ā¨2,600 this week'Äôs numbers were: 10, 24, 28 and 29 winners were: 'ā¨50 Maureen Ni Chanainn, Cruckarra 'ā¨30 Fiona O'ÄôDonnell, Ballymacfadden 'ā¨20 Francis Kennedy and JJ McBrearty, Towney.
Bingo Jackpot now 'ā¨10,000
There was no winner of the Jackpot so it'Äôs now hit 'ā¨10,000 on 45 numbers; Club Bingo is on in The Parish Hall on Sunday nights at 8:30pm so please support to be in with a chance of winning the Jackpot and thanks to all who continue to support our Bingo! This week'Äôs winners were: 'ā¨150 Martina O'ÄôDonnell 'ā¨100 Anne Lowther 'ā¨80 Anne McGill, Gracie O'ÄôHara, M√°ire McShane 'ā¨70 Mary Breslin, Ellen Anne Orpen, Mary Gallagher, Charlie McBrearty, Carmel Ellis, M√°iread Cunningham and Breege McCallig.
For the latest news visit our website www.clgchillchartha.com you can also follow us on Facebook and Twitter at facebook.com/CillCharthaGAA and @KilcarGAA you can also follow us on Instagram at kilcargaa.