Ā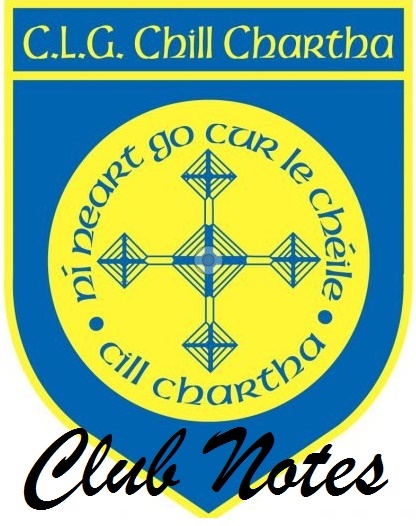 Our seniors and reserves had two very good away wins to St Michaelā€™s in the senior ā€œstarā€ game it finished 1-16 to 1-12 and the reserves made it 4 wins from 4 winning 2-06 to 0-03 next up is St Eunans at home this Saturday evening matches at 5-30 and 7:30pm the senior match is a ā€œstarā€ game. Best of luck to Donegal seniors and minors who begin their Ulster Championship campaigns this Sunday and to all from the club representing both teams.
Underage
Our under 14s defeated Naomh Brid/Pettigo in Towny on Monday evening while our Under 12s kept up their great start to the season with a good win away to Aodh Ruadh they host Na Rossa this Friday next.
Health and Wellbeing Evening
Health and Wellbeing Evening on Friday 19th May for boys and girls aged 15-18 in Ɓislann Chill Chartha at 7pm. All players and parents are asked to attend. There will be guest speakers on the night covering various topics including Nutrition & Exercise, Mental Health and Addiction. Contact 086-1797597 for information.
Club Gear
We have a large selection of club gear on sale in Ɓislann Chill Chartha with adult and kidā€™s club home jerseys, half zip tops, polo shirts, bobble hats, jackets, hoodies, stickers, shorts, DVDs etc.
FREE Mobile CLG Chill Chartha Club App
We have 241 members on our FREE mobile app if you would like to sign up just follow these steps to download your free team App for CLG Chill Chartha.Ā 
1. On your phone or iPad go to the app store 2. Search for Team App 3. Install Team App to your phone 4. Search for CLG Chill Chartha 5. Log in and register for the CLG Chill Chartha Club app. 6. You will receive an email notification when you are added you to the system.
Club Lotto Jackpot Winner
Well done to Shannon Gallagher, Killybegs who was the winner of the Club Lotto Jackpot of ā'¬2,200 this weekā€™s numbers were: 2, 5, 21 and 30.
Bingo Jackpot now ā'¬9,750
There was no winner of the Jackpot so itā€™s now hit ā'¬9,750 on 45 numbers; Club Bingo is on in The Parish Hall on Sunday nights at 8:30pm so please support to be in with a chance of winning the Jackpot and thanks to all who continue to support our Bingo! This weekā€™s winners were: ā'¬165 Elise McMorrow ā'¬80 Donal Campbell, Katherine Gallagher ā'¬70 Jim McLaughlin, Una Oā€™Gara, Arlene Cunnea, Bernadette Gillespie, Suzanne Gillespie, Annie Deane and Mary Carrick.
For the latest news visit our websiteĀ www.clgchillchartha.com you can also follow us on Facebook and Twitter at facebook.com/CillCharthaGAA and @KilcarGAA you can also follow us on Instagram at kilcargaa.