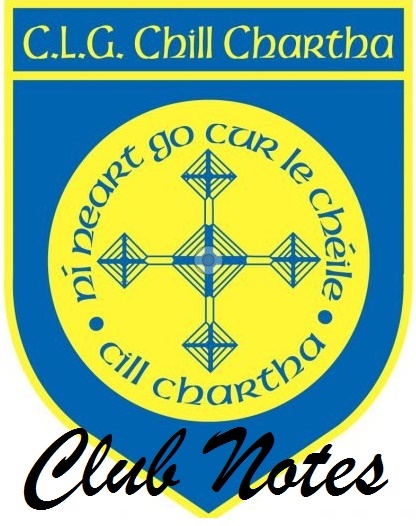 Our seniors and reserves began their 2017 campaigns in Towney last Sunday in front of a large attendance the senior match finished 1-15 to 1-12 in a very entering match while our reserves had a very good win as well that finished 1-12 to 1-05, it back to league action this Sunday with both teams away to St Michaels the senior match is a ā€œstar gameā€.
Underage
Our under 14s host Naomh Ultan this Friday at 7pm, they had a walkover against Four Masters last week, our under 12s also play Naomh Ultan in Towney this Monday at 7pm.
Donegal v Antrim Ticket info
Ticket details for Donegal vs Antrim, MacCumhaill ParkĀ Sunday 21st May 2017. Orders for tickets to be in by 12 noon this Friday no orders will be taken after that contact Nicola at 087 4150188. Prices: Adult Stand ā'¬25, OAP Stand ā'¬15, Adult Terrace ā'¬15, Student Terrace ā'¬10, OAP Terrace ā'¬10 and Under 16 free (except stand).
Club Gear
We have a large selection of club gear on sale in Ɓislann Chill Chartha with adult and kidā€™s club home jerseys, half zip tops, polo shirts, bobble hats, jackets, hoodies, stickers, shorts, DVDs etc.
FREE Mobile CLG Chill Chartha Club App
We have 240 members on our FREE mobile app if you would like to sign up just follow these steps to download your free team App for CLG Chill Chartha.Ā 
1. On your phone or iPad go to the app store 2. Search for Team App 3. Install Team App to your phone 4. Search for CLG Chill Chartha 5. Log in and register for the CLG Chill Chartha Club app. 6. You will receive an email notification when you are added you to the system.
Club Lotto Results
There was no winner of the Club Lotto Jackpot so next weekā€™s Jackpot is ā'¬2,200 this weekā€™s numbers were: 4, 15, 17 and 23 winners were: ā'¬50 Cillian Meehan, Leitir ā'¬30 Frankie Doogan, Bavin ā'¬20 Anne Breslin, Shalway and Bernadette MhicGiolla Easbaig, An Rualach.
Bingo Jackpot now ā'¬9,700
There was no winner of the Jackpot so itā€™s now hit ā'¬9,700 on 45 numbers; Club Bingo is on in The Parish Hall on Sunday nights at 8:30pm so please support to be in with a chance of winning the Jackpot and thanks to all who continue to support our Bingo! This weekā€™s winners were: ā'¬150 Rita Cunningham ā'¬140 Margaret Byrne, Ann Marie Campbell ā'¬80 John Campbell, Ann Kane ā'¬70 Mary Carrick, Margaret Doherty, Mart T Byrne and Alana Love.
For the latest news visit our websiteĀ www.clgchillchartha.com you can also follow us on Facebook and Twitter at facebook.com/CillCharthaGAA and @KilcarGAA you can also follow us on Instagram at kilcargaa.
Ā