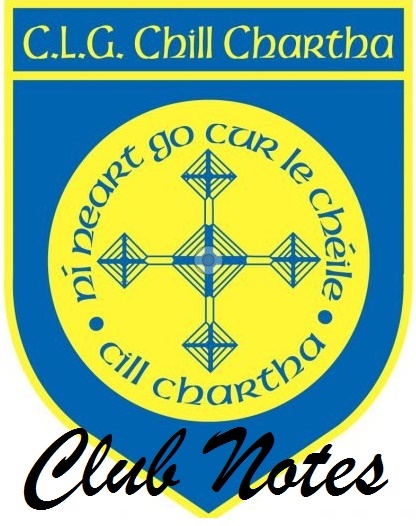 This is the last week before the 31st of March deadline we will be collecting membership on Tuesday from 7-8pm Thursday from 6.30-7.30pm in the Tea Rooms, Towney , prices are ā'¬40 for a family or ā'¬20 for adult or you can pay online via the website.Ā 
Our ladies had a good win in Ardara in the Comortas on Sunday morning final score was 5-08 to 5-03, while the junior menā€™s Comortas match away to Fanad was postponed.
We would like to wish Republc of Ireland international Seamus Coleman a speedy recovery after his injury against Wales on Friday night.
Underage
Our minors defeated Naomh Ultan 3-10 to 2-11 on Sunday morning they face Four Masters away this Wednesday, our Under 16s travel to Naomh Muire on Friday while our Under 12s host Naomh Brid on Saturday.
Club Gear
We have a large selection of club gear on sale in Ɓislann Chill Chartha with adult and kidā€™s club home jerseys, half zip tops, polo shirts, bobble hats, jackets, hoodies, stickers, shorts, DVDs etc.
FREE Mobile CLG Chill Chartha Club App
We have 238 members on our FREE mobile app if you would like to sign up just follow these steps to download your free team App for CLG Chill Chartha.Ā 
1. On your phone or iPad go to the app store 2. Search for Team App 3. Install Team App to your phone 4. Search for CLG Chill Chartha 5. Log in and register for the CLG Chill Chartha Club app. 6. You will receive an email notification when you are added you to the system.
Latest Club Lotto Winners
There was no winner of the Club Lotto Jackpot so next weekā€™s Jackpot is ā'¬5,000 this weekā€™s numbers were: 10, 13, 17 and 19 winners were: ā'¬50 Cartha Byrne, Crowkerragh ā'¬30 Brid McCallig, Dunkineely ā'¬20 Barbra Hegarty, Kilcar and Fiona McBrearty, Castlecarn.
Bingo Jackpot now ā'¬9,400
There was no winner of the Jackpot so itā€™s now hit ā'¬9,400 on 45 numbers; Club Bingo is on in The Parish Hall on Sunday nights at 8:30pm so please support to be in with a chance of winning the Jackpot and thanks to all who continue to support our Bingo! This weekā€™s winners were: ā'¬ 100 John Cuningham ā'¬80 Peter Sweeney, Margaret Cuningham ā'¬75 Kathleen Carr, Carmel Gallagher ā'¬70 Margaret McGuinness, Fionnula Hegarty, Anne Heekin, Breege McGuinness, Mary Galalgher, Carmel Ellis and Lilly Byrne.
For the latest news visit our websiteĀ www.clgchillchartha.com you can also follow us on Facebook and Twitter at facebook.com/CillCharthaGAA and @KilcarGAA you can also follow us on Instagram at kilcargaa.