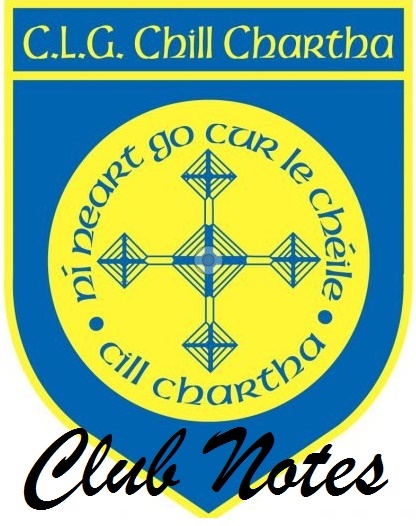 Our seniors and reserves play Gaoth Dobhair this weekend in the Comortas Peile our seniors are at home on Saturday at 3pm and reserves are away Sunday morning for an 11am throw in.
Open Evening
The club are holding an open evening in √Āislann Chill Chartha on Friday 3rd March.
Colaiste na Carraige
Well done to Colaiste na Carraige on their superb win in the Markey Cup semi-final against St Patricks, Keady on Tuesday and best of luck in next week's final.
Annual Club Pass for 2017 Season
This pass will give admission to all adult league and championships (including U21) games in Donegal for the 2017 season. Orders to be placed through the club secretary only with a deadline of March 1st price 'ā¨149 contact Nicola at 087-4150188.
Club Gear
We have a large selection of club gear on sale in √Āislann Chill Chartha with adult and kid'Äôs club home jerseys, half zip tops, polo shirts, bobble hats, jackets, hoodies, stickers, shorts, DVDs etc.
FREE Mobile CLG Chill Chartha Club App
We have 237 members on our FREE mobile app if you would like to sign up just follow these steps to download your free team App for CLG Chill Chartha. 
1. On your phone or iPad go to the app store 2. Search for Team App 3. Install Team App to your phone 4. Search for CLG Chill Chartha 5. Log in and register for the CLG Chill Chartha Club app. 6. You will receive an email notification when you are added you to the system.
Latest Club Lotto Winners
There was no winner of the Club Lotto Jackpot so next week'Äôs Jackpot is 'ā¨4,500 this week'Äôs numbers were: 2, 12, 17 and 22 winners were: 'ā¨50 Seamus Breslin, Straleel 'ā¨30 Mary Boyle, Cruckarra 'ā¨20 Eamonnn Carr, Main Street and Elin O'ÄôDonnell, Cashlings.
Club Bingo Jackpot 'ā¨9,150
There was no winner of the Jackpot so it'Äôs now hit 'ā¨9,150 on 45 numbers; Club Bingo is on in The Parish Hall on Sunday nights at 8:30pm so please support to be in with a chance of winning the Jackpot and thanks to all who continue to support our Bingo! This week'Äôs winners were: 'ā¨150 Marie MacLaughlin, Roseanne Ellis 'ā¨100 Mary Duddy 'ā¨80 Rose Byrne 'ā¨70 Teresa Doherty, Sally Morrow, Annmarie Campbell, Maggie O'ÄôDonnell and Bridie Sweeney.
Condolences to the family and friends of Patrick Boyle, Cullion who passed away recently. Ar dheis Dé go raibh a n-anam.
For the latest news visit our website www.clgchillchartha.com you can also follow us on Facebook and Twitter at facebook.com/CillCharthaGAA and @KilcarGAA you can also follow us on Instagram at kilcargaa.