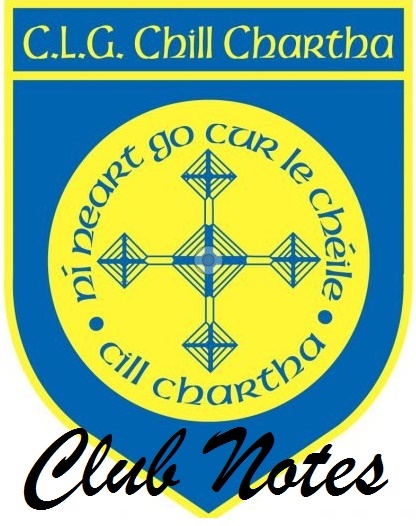 Thanks to all who attended our Club Presentation night in the Blue Haven on Saturday where a very enjoyable night was had by all. ¬†Club Meeting this Thursday at 8:30pm in √Āislann Chill Chartha all welcome and best of luck to the Donegal seniors who begin their 2017 division one campaign against Kerry in Letterkenny on Sunday and especially to all the lads from the club involved.¬†
Underage
Could all of last year's Underage Team Managers please return the First Aid Kits to Mary in Towney as we are about to restore them in preparation for the coming year.Top of Form
 Club Gear
We have a large selection of club gear on sale in √Āislann Chill Chartha with adult and kid'Äôs club home jerseys, half zip tops, polo shirts, bobble hats, jackets, hoodies, stickers, shorts, DVDs etc.
FREE Mobile CLG Chill Chartha Club App
We have 237 members on our FREE mobile app if you would like to sign up just follow these steps to download your free team App for CLG Chill Chartha. 
1. On your phone or iPad go to the app store 2. Search for Team App 3. Install Team App to your phone 4. Search for CLG Chill Chartha 5. Log in and register for the CLG Chill Chartha Club app. 6. You will receive an email notification when you are added you to the system.
Latest Club Lotto Winners
There was no winner of the Club Lotto Jackpot so next week'Äôs Jackpot is 'ā¨4,200 this week'Äôs numbers were: 3, 6, 9 and 16 winners were: 'ā¨50 Aaron Molloy, Castlecarn 'ā¨30 Eileen McBrearty, Towney 'ā¨20 Antoinette Gillespie, Kille and Noelle Campbell, Main Street. We are looking for volunteers to sell club lotto'Äôs in the town on a Saturday or Sunday night contact either Fiona or Glenda by Wednesday night if you can help.
Club Bingo Jackpot 'ā¨9,000
There was no winner of the Jackpot so it'Äôs now hit 'ā¨9,000 on 45 numbers; Club Bingo is on in The Parish Hall on Sunday nights at 8:30pm so please support to be in with a chance of winning the Jackpot and thanks to all who continue to support our Bingo! This week'Äôs winners were: 'ā¨200 Arlene Cunnea 'ā¨80 Gladys Fuller 'ā¨70 Mary Carr, Roseanne Ellis, Annie McGinley, Ethna Byrne and Anna Cannon.

For the latest news visit our website www.clgchillchartha.com you can also follow us on Facebook and Twitter at facebook.com/CillCharthaGAA and @KilcarGAA