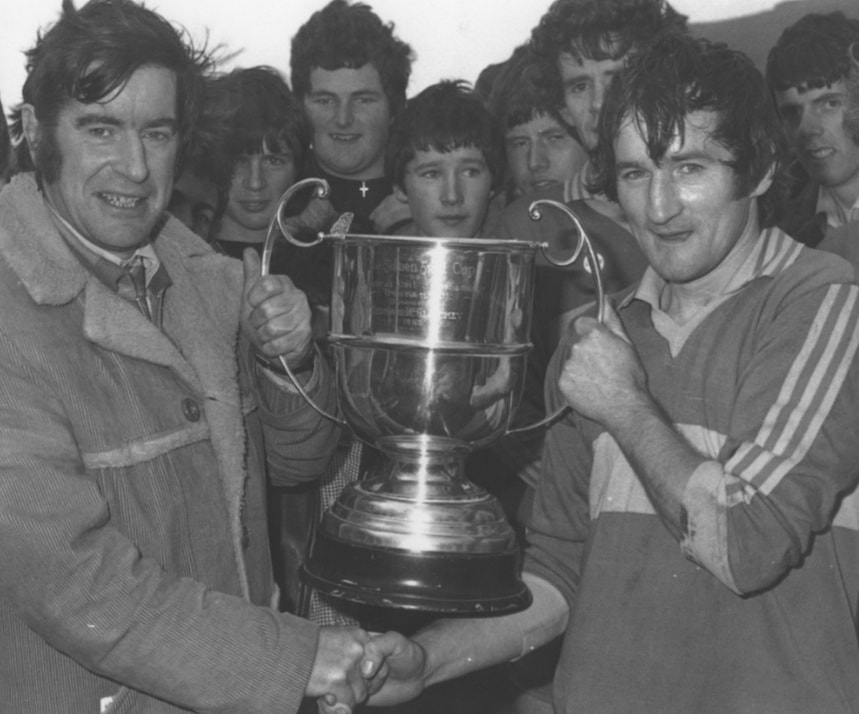 Ar an Aoine 11 Nollaig tháinig an drochscéal chugainn anseo i gCill Chartha go raibh Mícheál Mac Giolla Easbuic imithe ar shlí na bhfírinne.
B'imreoir leis an chlub ó 1958 go dtí 1971. In aois fíche bliain dó toghadh mar rúnaí é agus ba sin tús a shaothair mar riarthóir agus mar chomhairleoir i ngóthaí éagsúla an chlub.
Bhí sé páirteach i bfotbairt na páirce peile i dTamhnaigh agus mar thiomsaitheoir airgid don tógra sin.
Beidh an club choiche buíoch dó as a shaothar.
Déanaimid comhbhrón lena bhean chéile Bernadette, a mhac Gregory agus a ghaolta uilig.
Ní sé imithe uainn, ach imithe romhainn.
Ar dheis Dé go raibh a anam.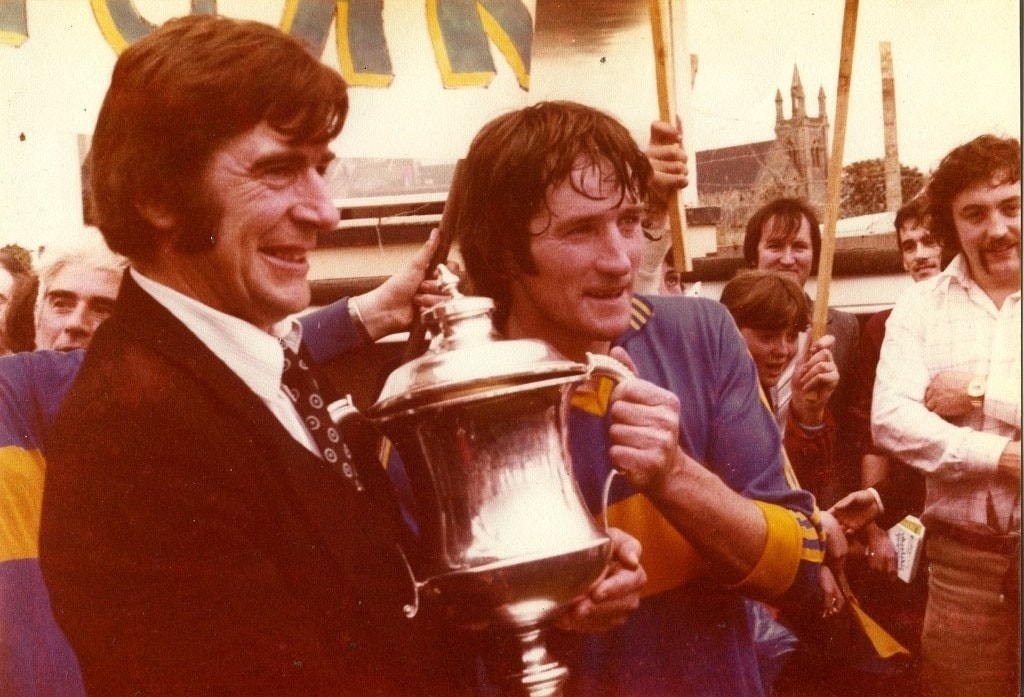 The 'Chief' is dead, long live The Chief . . .
By: Michael Daly
Mícheál Mac Giolla Easbuic, one of Donegal GAA's most brilliant administrators, has died. 
From Kilcar, he was born on April 3, 1942. 
His father was Pat Mac Giolla Easbuig, from a townland called Cashlings, in Gleann An Bhaile Dhuibh and his mother was Annie Doogan.
Blessed with a brilliant mind, he was known simply as 'The Chief', never was there a moniker so apt. He carried it lightly as men and women born for greatness so often do.  It fitted him so well, as we say down here in Ballyshannon (a town that loved him well), like a Slevin's suit. 
A teacher, his own education began at Muckross National School, and, from there to Coláiste Éinde, Salthill, Co. Galway and then to St Patrick's College, Drumcondra, Dublin where he qualified as a primary school teacher.
He taught under the famous Father James McDyre in Scoil Loch Thoir a'Thoirc in Glen initially and then taught in the Kilcar parish until 1993.
A native Irish speaker, a singer, a poet, a raconteur, an author, he will be remembered outside his parish for his contribution to the GAA, but he was also hugely committed to his community and apart from his magnificent GAA work, he was actively involved in so many groups and local organisations, ranging from Áislann Cill Chartha, Civil Defence Instructor, First Aid Instructor, Donegal Partnership, Meitheal Forbatha na Gaeltachta, Tír Boghaine and local drama productions.
But in the GAA world, as an administrator, a leader, he found his talents put to best use. Cool under pressure, he had an affability and charisma that often disguised his remarkable drive and will to win. In later life, the mid 90's, when serious illness knocked on his door, he displayed a steely, insatiable drive for life. His recovery from serious illness more than 20 years ago, was for many, his greatest victory. He would not be beaten. 
On the field, in the boardroom or the classroom, he was totally committed to everything he put his mind to; if he took on a task, for him it would not be enough to do it well, he sought perfection. He never settled for a pass mark and would demand excellence from all who came across his radar.
He played football from 1958 to 1971. He won a junior league medal in 1961 and, ten years later, a junior championship in 1971.
In 1962, aged 20,  he became club secretary and recalls being on a Kilcar Junior team that won a Donegal title easily beating Castlefin in the final in 1961. In 1962 he was selected as club secretary.
He trained the Kilcar senior footballers to a SFL title in 1975, the first ever team from the parish of Kilcar to win such a title, coming on the back of three U-21 titles in the early 1970s.
He became involved in the organisation of Comortas Peile Na Gaeltachta and would continue that involvement through his life. His friendship with Paddy Beag MacGiolla Easbuic was exceptional and one that lasted a lifetime.  They travelled to all the local and All Ireland Comórtaisí Peile na Gaeltachta together and enjoyed each other's company.
Having served as secretary of his local Kilcar GAA club, in 1980, in Downings, he pulled off something of a surprise win when he contested the chair. That convention in Downings lasted more than eight hours. 38 years old, he ousted his near neighbour Francie Cunningham, Carrick, who was the outgoing chairman, by just one vote. Mr Cunningham was elected vice-chairman.
The Donegal Democrat of the time reported that in general it was a long and tedious meeting, but gave prominence to a claim from the then county team manager, Sean O'Donnell saying a knife was at his back for a long time. Topped with a headline that mirrored O'Donnell's claim, that story took some of the spotlight off Mícheál's success.
To appreciate the times that were in it, the other main topic to cause comment at the gathering was the treatment of prisoners in Long Kesh.
But, over the course of time, his steady hand and his ability to diffuse difficult situations, ensured the GAA in Donegal, under his chairmanship, made steady progress. 
In conversation with this writer many years ago he spoke about having to take a stand against his own club very early on in his tenure as county chairman.
"Let's just say there was an expectation from some that I would rule in favour of Kilcar on a tricky issue at the time, and while it may not have gone down well 'at home' with some, it helped me demonstrate that I was now 'county' chairman and I think locally people appreciated that, although perhaps not immediately. I had to do it that way and I ruled as county chairman. That was my approach, it had to be."
Having served for seven years, with an Ulster title secured in 1983, there was general surprise when he stepped down after seven years as chairman, the convention held in mid December 1986 in the Millstone Hotel, Ballyshannon. Mícheál had intimated before the convention that he was not seeking another year, very few people believed him, but he was as good as his word, and stepped down. Charlie Faulkner, Sean MacCumhaills, became chairman without a vote when other nominees Francie Cunningham and Pat Conaghan withdrew. Francie Cunningham, who was defeated by Mícheál in 1980 for the chair, was returned again as treasurer.
In his final address as chairman Mícheál warned against the Compromise Rules series, he said he was not in favour of games against the Australian professionals. He also suggested that gaelic footballers should give their allegiance to gaelic games and not to other sports, but fell short of saying they should not play them.
Throughout his tenure a recurring theme was his concern for the welfare of communities in Donegal, he was keenly aware of emigration during his time in the chair and the impact this was having on clubs' ability to field teams as so many players left to the UK, USA and elsewhere. He was central to a change which saw the 90 day rule introduced that would allow players who played in the US return to their clubs to play. 
After his seven year stint as chairman he continued his administrative involvement, as follows: 
Ulster: Delegate to Central Council (1993 – 1996); 
Central: Ard Comhairle Member (1987 – 1996); 
Coiste na Gaeilge (1996 – 2002);
Oireachtas Committee (1990 – 2002); 
Trustee (1996 – 1999);
Chairman of Comόrtasaí Peile na Gaeltachta (1977 – 1979). 
While 1992 was a special year for Mícheál and Donegal, the mid 90s were a very difficult time for him personally as he fought to survive cancer and deal with his angina. Asked about his mental strength to get through a series of operations which saw much of a kidney removed he replied: "I am a positive person mentally and I say to people that when your back is to the wall there is one thing you can do. If you put your head down it will eventually hit your knees."
He survived it and, in some ways, almost had a second life, he lived and loved each day, full of ideas and ever passionate about his native tongue. 
Having served the GAA for a lifetime, he gave other loves, such as writing and conversation an invitation into his life and seemed very content with himself. 
He will be remembered for many things, how his body would rock when he chuckled telling or 'taking in' a funny story. For all who knew him when he flashes upon our 'inward eye', we will recall his good humour, his stamina, his rich, textured brogue, his immaculate hand-writing, the smile, the chuckle, his báinín Aran jumpers, the polo-necks, the grace and graciousness, his passion for people and community, for the parish, for the GAA.  All of that and much more were complementing constituents that made up his unique DNA.
There will be many well-merited fine words written about him in the days to come and beyond, but all will agree that 'The Chief', was just that, a very special leader, who used his special talents for the good of all.
He is survived by his wife Bernadette, son Gregory, grandchildren, brothers and sister, extended family and very large circle of friends to whom deepest sympathy is extended.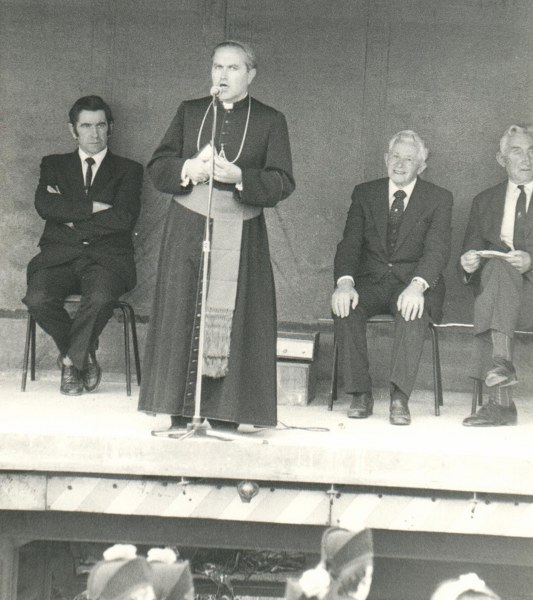 Micheál Mac Giolla Easpaig from The Donegal Post 18 April 2018
By Gerry McLaughlin 
Bhi se mar phribhleid agam seal a chaitheamh I gcomhluadar Mhichil Mac Giolla Easbuig ina rioghacht fein sa Mhucrois. Cill Chartha, ar thairseach an Aigein Mhoir, agus chuaidh an la thart go gasta.
Maidir le Cumann Luthchleas Gael, baisteadh an leas ainm "An Taoiseach" air, no I mBearla "The Chief".
Agus ba fheiliunach an teidil e ar dhoigheanna eagsula.
Mar, is fear uasal, fear oilte, fear a bhfuil gean as cuimse aige don Ghaeilge, da mhuintir agus da ait dhuchais I gCill Chartha ata sa Mhicheal ceanna.
Agus ta gravitas na Sean Gael go smior ann, ceannaire nadurtha, a bhi os comhair Chumainn Luthchleas Gael sa chondae are feadh ocht mblian.
Ach is seanchai, srciobhneoir, bailitheoir, Gaeilgeoir agus saoi a sheas go trean in aghaidh na hailse agus galar chroi agus a thainic amach agus rimead ina shuile.
Fear laidir, fear lach, fear leannta, fear a bhfuil feith an ghrinn go smior ann agus fear a chonaic an da la….fior "legend".
It would not be proper to write any article about the one and only Micheal Mac Giolla Easbuic, urbane citizen of An Rualach, Mucrois on the edge of the Western world in Kilcar, without starting out in the language he loves deeply, the tongue of his ancestors and the language he writes in so beautifully.
But he has equal facility in English and was known affectionately in many GAA circles as "The Chief" when he was a very pragmatic and innovative county chairman from 1980 to 1987.
Micheal is one of Donegal's great local legends but he is also an author, a poet, a collector of traditional music, a raconteur in either tongue, a natural comedian with some great one- liners, a mirth maker who loves to entertain and be entertained.
And he has all the gravitas and grace of a Gaelic chief as he sit in his armchair dispensing bon mots and bonhomie with loads of earthy self depreciation that does not really mask a formidable intellect, a razor sharp mind and great natural physical and mental strength.
He is best remembered for that well- known chuckle, a deep thinking man who constantly uses humour to counter life's many little booby traps.
Micheal needed all those qualities in the early 1990s when he had severe angina and cancer.
Most of his kidneys were removed after severe chemotherapy that ended in 1999,
"That form of chemo, Prolukin affected every part of my body and brain.
"For ages afterwards I would be stopping in the middle of a sentence, searching for a word that would never come and then it would hit you like a shot another time.
"But with crosswords and so on helped me fight back but I am still not too good with names of people.
"I wasn't cut out to be a politician so it does not matter".
But Buiochas le Dhia he recovered and is now enjoying relatively good health.
That took enormous courage, character and real class, but this man has all three in spades.
Socially he was and is the very best of company, and like his great fellow Gaeilgeoir Paddy Beag Mac Giolla Easpuig he is a born viveur, a man who has tasted life through the teeth.
His GAA memories span from the 1940's and 50's growing up in Kilcar, going to Colaiste Einde in Galway, where he was a classmate of ex county secretary Bart Whelan from Ardara and the alma mater of his other great friend and ex GAA President Joe McDonagh to the present day, and they remain sharp and clear as this April day in his very hospitable home on the edge of the western world.
Micheal then went to St Patrick's Drumcondra where he qualified as a Primary school teacher and taught in the Kilcar parish until illness forced him to call time in 1993-he started working with the legendary, Fr James McDyre.
In 1962 he became club secretary at the age of 20 and recalls being on a Kilcar Junior team that won a Donegal title easily beating Castlefin in the final in 1961.
Then in 1962, at the tender age of 21 he was secretary and helped to train the Kilcar team that reached but were beaten in a county final in 1963 by the mighty Sean MacCumhaill's in Father Tierney Park, Ballyshannon.
Micheal remembers training that team by the headlights of his car and getting the facility of a sciobol or barn for some indoor training as the final was in November.
The 1960s also saw Micheal gain his vast experience at Divisional Board Meetings, and became involved in the organization of Comortas Peile Na Gaeltachta, and he is still very much involved with Paddy Beag.
He trained the Kilcar senior footballers to a SFL title in 1975.
This was the first ever team from the parish of Kilcar to win such a title and it came on the back of three U-21 titles in the early 1970ss.
It was also the basis of he great Kilcar teams who won so many county titles in a golden period between 1980 and 1993.
And five years later, in 1980, he was elected chairman of Donegal County Board until 1987.
"It was too long but the reason I went for it the second time was that I felt that there was some more things to be done".
And then he adds tellingly:
"The longer you are in any job, the more enemies you make"
B'fhior duit a Mhichil!
In that time he was highly respected as a man who got things done quietly, firmly and without fuss.
Two of his major achievements were in helping to give the county team manager the power to pick his own selectors, which removed quite a lot of the parochial amateur politics that had pertained for generations.
Micheal was also instrumental in getting the 90 days term for players going to the US, which meant that they could go out and then come back and play with their clubs.
And he believes that the steady flow of county footballers to the States certainly did not help Donegal in its quest to build on an Ulster title win over Cavan in 1983.
But the 90 days directive was a practical solution that has worked fairly well since.
Also, he is convinced that Donegal senior footballers had the talent and know- how to win a few more All-Ireland's before 1992.
"We just did not have the belief'.
When his term in the chair was up, he then served on the Central Council as a very efficient delegate, was elected on to the Management Committee in Croke Park and was also elected a Trustee at the height of his illness.
And, with typical self- depreciation he recalls how Donegal gave him a Hall of Fame Award in the early 1990s also.
"That usually only happens when you are on the way out but thankfully I am still around".
Micheal was a great friend of past Presidents the late Jack Boothman from Wicklow with whom he went around schools in the county and an even greater cara mor with the golden-voiced Joe McDonagh, forever remembered for his timely rendition of The West's Awake after Joe Connolly's stirring victory speech when Galway hurlers won the Liam McCarthy Cup in 1980.
Micheal is known the length and breadth of Ireland for many reasons and especially for his association with Comortas Peile Na Gaeltachta and his time as a Central Council delegate.
He is also a great friend of the great Tipperary hurler John Doyle who was also a Central Council delegate
and they had several meetings in convivial surroundings in Dublin.       
He is a proud Kilcar and Donegal man but not a fan of the current move towards Gaelic handball.
Micheal believes that Gaelic football would be vastly improved if the teams were reduced to 13-a-side the number the Ulster Colleges used so successfully for so many years.
And he has also written a very timely piece in omos to the great Columba McDyre who became the first ever Donegal man to win an All-Ireland medal and the Glenties native did it with Cavan in the Polo Grounds in 1947.
Micheal feels strongly that something should have been done in Donegal last year to recognize McDyer's great achievements on the 50th anniversary of the Polo Grounds victory.
He adds that Christy Hegarty from Teelin also won an All-Ireland medal with Mayo in 1951 as a sub.
"Christy was a garda in Charlestown".
Micheal was born on April 3 1942 and the Post called on his birthday!
"It is great to get this far but looking back I don't know where the years have gone.
Micheal was born in the townland of Dachtan and went to school in Kilcar and if "if you did not play football in school in those days, you probably would not survive".
Brid McHugh was Micheal's teacher and she later joined the nuns in the 1960s and was in Ballyshannon.
There were only around 14 pupils at the school and Micheal believes he was sent there before his fourth birthday just to "keep the school open".
His father was Pat Mac Giolla Easbuig and he was from a townland called Cashlings, in Gleann An Bhaile Dhuibh and his mother was Annie Doogan.
There were Divisional Boards during the 1940s and 50s and there were not too many games played in the year.
Micheal's first memory was of Kilcar and Dunkineely, which was always a very hard fought battle.
Kilcar and Ardara were arch- enemies in those years and there was an odd "scliuchas" on the sideline.
Big Frank O'Donnell from Bogagh was a major figure until he got a knee injury in Glenties in 1959.
Paddy O'Donnell, Aodh O'Donnell and Sean O'Donnell were also notable Kilcar figures and they were cousins of Big Frank's and Cathal McLaughlin was also a good footballer.
Micheal believes that these people would all have been fine county footballers but "we were so far away here out in the south west from the centre of things".
Killybegs did win a county championship in 1952 and 11 of the team, including James McHugh, father of Martin and James, were from Kilcar.
Ardara man Tom Gallagher, father of the famous "Frankie Tom" was the manager.
Kilcar seniors were in a county final in 1959 when Micheal was only 17 and were beaten by MacCumhaill's and the afore mentioned players were prominent.
Ironically they were back in a final again in 1963 an era when they picked from Glen Head to Inver Bridge but once again MacCumhaill's prevailed and Micheal was a 21-year-old club secretary at the time.
"I was a very sickly person because the last game I played in St Pat's I had a serious back injury and I had an operation in 1966 but I had 52 good years since".
And then he names the team that took the field, starting from left to right back row with Micheal on the extreme left in civvies.
"Proinnsias Carr, Sean Burke, Patsy McGowan, Aodh O'Donnell, Patsy O'Donnell, Josie Gillespie, Joseph Boyle, Charlie McDevitt (club chairman), "Red" Francie Cunningham, Kevin McDonald, Packie Haughey, Paddy O'Donnell
Front Row; Paddy "Beag" Gillespie, Francie Cunningham, Charlie Brady, Timmy Driscoll (boy), Sean McGuinness, Jimmy Cunningham, Mickey Haughey, Ian Hegarty, Des Houlihan, Seamus McNulty, Cathal McLaughlin.
"I remember that MacCumhaill' had a goalkeeper called Joe Leeper and he was taken out to the midfield and he changed the game for them".
"We togged out in one of the old De La Salle classrooms and everyone went on their knees and prayed that we would come back safe from the field, we did not pray to win the match.
"You would not get much of that nowadays"
In a parallel educational universe, Micheal's life took a major turn when he left for the famous Colaiste Einde in Galway in 1945 when he was just 13, a big wrench for a young scholarship boy.
He spent four years there and went to St Patrick's Teacher Training College in Drumcondra in 1959 and three weeks before the Leaving Cert his father died from cancer.
Pat Mac Giolla Easbuig was only 46-a terrible blow to the young Micheal.
"I can't understand how I got the Leaving Cert".
Meanwhile, among Micheal's Donegal comrades in that famous Galway college included Clement Coughlan from Mountcharles, Niall Gerard O'Donnell of Dungloe, Ardara's Bart Whelan, Brian Byrne, Kilcar, Tom O'Donnell from Ardara who was a great player who shattered his ankle in St Pat's and ended his career.
Brian Campbell from Dimarone, the father of county councillor John Campbell was also in the college.
Despite his tragedy, he got into St Pat's College and spent two years and had Michael McCaulay, father of Dublin GAA star Michael Darragh McCaulay, from Leitirmacaward, who later worked in the tunnels to pay his way to becoming a doctor.
John Fay from Longford who later became a Central Council delegate for his county and Micheal were editors of a sports college magazine called Sportsview and Micheal used to ring Sean Og O Ceallachan in RTE to give him the results of the college matches and St Pat's were playing in the Dublin SFC at the time.
"They won in in 1956 when Mattie McDonagh was there.
"Eamon Ryan, who was Cork Ladies team manager was in the same year as me".
And Micheal and his pals got in to see the All-Ireland Hurling final replay between Kilkenny and Waterford in 1959 in Croke Park for the princely sum of one shilling-and Waterford won a rare victory.
Micheal then went to teach under the famous Father James McDyre in Scoil Loch Thoir a'Thoirc in Glen initially and then taught in the Kilcar parish until 1993.
"It was a great place to teach and they all had the Gaeilge and I did not have any English when I went on my first day to Primary School".
"I changed to Sealbhui School in 1962, the school the McHugh's went to".
In 1962 Charlie McDevitt was elected as Kilcar chairman and Micheal was elected secretary on the same day and Micheal was only 20.
And Charlie McDevitt's uncle Pat was a famous and colourful character in Kilcar back in the 1920s.
"He was one of first drivers of the side car that brought the first Kilcar team into Glencolmcille in 1924.
"James McShane and Hughie Carr from Drum Riadh were also prominent in those years.
"Hughie was an uncle of Michael Carr's of Kilcar so I met two of the people who bought the first side cars into Glen.
"Paddy Tim O'Gara had a lorry at that time and he was the transporter of the Kilcar team going into Glen.
"But when they were going to play Gaoth Dobhair in Magheragallon, it was a timber bridge across the Gweebarra Bay and they had to get out of the lorry and walk across behind the lorry.
"The club was founded in 1928 and it was 18 years when I was born.
He added:
"The GAA was 21 years in existence before it came to Donegal and that only happened because Seumas MacManus was writing to the Derry Journal about the GAA."
And then he salutes those who went before him in Kilcar.
"But for people like Michael Erskine before us, there would be no club in Kilcar as he was a great secretary and Proinsias Carr was a great treasurer and kept Kilcar going".
Micheal was teaching at the Irish College in Teeling during the summer of 1962 and he man who was looking after the PE was Phil Stuart a Gaeilgeoir from Derry and who played midfield for Derry in the All-Ireland final of 1958.
Art McCrory from Tyrone was another PE teacher at that school.
Apart from the county final appearance in 1963, it was a lean decade for Kilcar in the 1960s.
And the Micheal meanders forward to an interesting story told to him in Donegal by former GAA Ard Stiurthoir Sean O'Siochain about when players careers and when the clapping stops.
"There was a certain former player who wrote to O'Siochain looking for two All-Ireland tickets and maybe you would have a suit as well".
"That's what the GAA did to Murphy it showed what happens to players who can't stand it when their playing days are over.
"When the clapping stops and they have great difficulty adjusting to life without the buzz of the game".
And then the "Chief" tells a yarn about meeting up with Mick O'Dwyer and Pat Spillane in the Ashling Hotel in 1982 after Kerry had lost to Offaly.
Pat Spillane was ordering a pint of Smithwicks and Micheal expressed surprise.
"If I was back down in Kerry I could not take a drink because there would be some old guy tapping me on the shoulders saying I have £20 on you to win the all-Ireland and you are not going to do it that way.
"I said to Pat, you are in the wrong county, if you were up in Donegal they would be clapping you on the back and would be saying you will have another.
"And boy did that happen after our first victory in 1992".
Meanwhile, Naomh Columba set up in 1965, taking some players from Kilcar and Killybegs the following year, so Kilcar had lost its considerable hinterland.
In one year, in 1965, Kilcar won no matches in any grade in any competition.
In 1970 Micheal got involved in Comortas Peile Na Gaeltachta at the behest of Gaoth Dobhair's Freddy Coll and was national chairman from 1977-1979.
"Initially it was meeting of people who spoke Irish from other Gaeltachta and there were loads of different canuinti and I was down in Corca Dhuibhne and wanted to see where Ryan's Daughter was made.
"We tried him first in English but could not understand him, but the Irish was much easier.
Michael's long administrative career began in the Divisional Board and recalls a county convention being held in the Nesbitt Arms in Ardara in the early 1960s.
"Someone proposed that the Donegal senior team should have a coach, so this other prominent GAA person got up and said No, there was need for that as the team would travel in cars as they always did".
And although he is remembered as a fine administrator over many years, he "did not enjoy it".
"Not really, it is a matter of getting somebody to do the job rather than somebody wanting to do the job.
"At the time that I went to teach the teacher had to be involved in everything in the community.
"And you were expected to be on the right hand of the parish priest and to be on committees so I suppose it grew from there.
'That was the culture at the time".
When asked about the background to his election as county chairman, he said he had experience of county board meetings where "I would never say too much".
And his debating skills honed in Galway and Dublin came in handy.
"These kind of things grow and it felt natural".
"Everything was debated and some people would get agitated but that is life".
Micheal was elected county chairman in Downings in Tramore House.
"I was going to withdraw my name and I was advised to stay in an I think it was Hughie McClafferty who gave me that advice.
"I never asked anybody for a vote".
Micheal defeated his neighbour from Glen Francie Rua Cunningham by just one vote.
"I was not expecting to be elected".
He was only 38 at the time.
"At that time I was teaching in Kilcar and I did not even have a phone at home, and made arrangements with Gaeltarra Eireann to use a phone in the factor for one hour from 3pm-4pm.
"The county chairman's job at that time was different".
After Micheal took the chair, it was a time of change at the top table and Bart Whelan joined him as secretary and Francie Rua Cunningham took over the post of treasurer.
All three were from the south- west and all were past pupils of Colaiste Einde in Galway.
"We kept the county ticking over and try and improved the system of managing county teams.
"At that time every Division had a selector along with the county manager which was unwieldy.
"We brought in a system where the team manager would pick his own team of selectors".
This was forward thinking and then 1982 happened with Naul McCole a very able chairman of the Minor Board.
"Tom Conaghan instilled a bit of discipline into the whole system and that was important".
Micheal was told to make a speech in Carrick-On-Shannon standing on a stool in the dressing room after that famous victory by Naul McCole.
"It was Naul who should have been speaking and I can still see Matt Gallagher's mother tending to Euan McIntyre who was flat out on the floor from sheer exhaustion".
"This was the beginning of the road that led to 1992 and we won it again in 1987 but there was not as much fuss".
A year later a Donegal senior team with six of the U-21s' won the county's first Ulster title since 1974.
Micheal's cousin Michael Carr was playing which made it even more special.
And then he expresses concern at a particular culture in the county during the 80s at the time whereby many quality players tended to go out to the States during the summer months.
"The US was a big thing and we had some players who were fitter for the Railway Cup than they were for the Ulster Championship.
"There was no belief whatsoever that even though Donegal had been Ulster champions they could go on an win an All-Ireland.
"I remember mentioning at a county convention that it was time now for Donegal to start thinking about winning an All-Ireland.
"A titter of laughter went around the room, but unless you have a target you can't go anywhere".
So why did it take seven years for Donegal win another Ulster title in 1990?
"I had the idea that the county's mind should have been thinking about the third Sunday in September.
"If you don't have your mind and body tuned in, you can't go there.
"Of course I can understand why they all went out and it was a great thing to be invited out".
But, change was coming with the introduction of the 90- day travel rule where players could go out for 90 days and then come back and play with their clubs.
"I was involved in that and it allowed Third Level students go out for the experience, and then come back and play with their clubs".
So what were the highlights of his two terms as "Chief"?
1984 was Centenary that brought fresh challenges and Micheal got all the past county chairmen together as a committee to decide on what Donegal's contribution was going to be.
"They did a nice thing where a plaque was given to every player that had played senior football for the county.
"Then there was the Team of the Century".
He went for the chair again in 1985 because "things had to be done and it would not have been fair heaping it on anybody else".
"It really was far too long because it was not good health wise and pressure and the longer you are there, the more enemies you make and I was conscious of that too", he adds with that famous chuckle.
"I did not really like it and I looked upon it as something that had to be done and my mother used to say when she was alive, why don't you leave it somebody else.
"But if everyone did that nothing would ever get done".
Then in 1988, Micheal was elected to represent Donegal at Central Council.
"I was proud to represent the county and it was very important that Donegal was always represented at those meetings and that was not always the case.
"Your status as a county is very important.
"I never missed any meeting of any kind only one and I asked Noreen Doherty to represent me and she was the first lady to represent any county at Central Council.
"Noreen is great, she is the Winnie Mandela of the GAA in Donegal".
And then he was elected to represent Ulster on the GAA Management Committee in 1991 and in 1994 he was "fortunate enough to be elected a Trustee for the GAA".
"The amazing thing about that was that only for my illness I might never have got elected.
"Tom Daly of Aodh Ruadh, P J McGowan and Naul McCole campaigned strongly for me to be elected at the county convention that year.
"I was not really able to do anything about it".
A few years earlier in 1992, Micheal was indeed a proud Donegal man when Tir Chonaill took their first ever All-Ireland title, a title he had long dreamed off and had sown some of the seeds for in the less auspicious 1980s.
"It was the fruition of a lot of things that went before, the discipline was good, but that was not always the case, and I can remember us playing a League match down in Tipperary shortly after I took the chair in 1980.
"We were all in a hotel room in Thurles and Brian McEniff asked me to say a few words.
"I mentioned about how you needed to be totally dedicated to get success and there were players who were capable of playing at a much higher level.
"Some of them were lying on the carpet because there was not enough chairs and I said there is a man here and he is capable of being the best full-back in Ulster or maybe Ireland.
"Someone asked who it was and I said it was Martin Griffin from Sean MacCumhaill's.
"Griffin got up on one elbow and said:
"You must be f…g joking".
"And he had the ability but neither he nor his county had the self belief which was sad".
But 1992 was very different as a new air of confidence swept the county.
"I think that the late defeat to Dublin in the NFL semi-finals earlier that year, when we should have won, hurt that much that the players collectively decided to do something about it.
"The players got a hold of themselves but that 1992 should have won All-Irelands before that.
"People were talking and giving out about Donegal not winning All-Ireland's after 1992.
"1993 was just one of those blips but they should have been winning All-Ireland's before 1992.
"They just did not believe.
"You can't go someplace unless you know where you are going.
"It changed in 1992 and then I liked Pat The Cope's statement that Donegal had never lost an All-Ireland"
Micheal was at the match and admits there was an anxiety that the Dubs might come back, but he was sure they won when Declan Bonner landed that last point.
Micheal had two tickets for the Ard Chomhairle and he gave the second ticket to an uncle.
But there is still something about that magical day that still puzzles the "Chief".
"I was told by two priests going into the match that Joyce McMullin's brother Gerard had passed away.
"So I was the one who went to the dressing room and Seamus Bonner, God rest him, was the first person I met and I told him.
"Seamus went up behind a pillar and cried behind a pillar.
"I never asked the two priests where they got their information from and I am reluctant to do so.
"Brian did not tell the players and he was wise.
"In the Malahide Hotel that night I was sitting beside Joyce and said, you decided not to go down, because I had not heard the good news that Gerard was alive.
"So Joyce said he was not".
On the following day Micheal arranged to have John "Kerry" O'Donnell to travel in with the bus from Malahide to the Burlington for the meal on the second day.
But the start of the 1990s was also the start of Micheal's long and courageous battle against angina and cancer.
It was a battle that maybe a lesser man with less physical and mental strength might not have been able for.
"I was coming out of Croke Park after a game and I got this kind of a twinge.
"And I rested on the bridge over the canal and when I came home I went to my doctor in Kilcar who sent me to Sligo Hospital and I don't know what they did.
"I had attacks of angina and then went to the Blackrock Rock Clinic in 1990".
Micheal got an angiogram done again in 1993 and a nodule was discovered behind a rib in his right lung at the Blackrock Clinic.
"So I had a double by-pass and cancer was found and they went looking for the rest of it and two weeks after having the by-passes done I had the right kidney taken away.
"Five weeks after that I had a piece of the left kidney taken and then in 1996 I had another piece of the left kidney taken in St Vincent's Hospital.
"I have about a third of my kidney left and I was up and down to Dublin fairly regularly.
"After the second piece of the kidney was taken out in 1996, I got out of the hospital and went off to London to see Joe McDonagh getting elected as GAA President.
"I have stints in as well and the last chemo was in 1998 and a lot of that thing is a blur"
Micheal also went to Lourdes with Fr John McLoone in 1994 and he had a stick with him and the man who carried the Chief's bag was Joe O'Donnell from Letterkenny, who lost his family in a fire.
"The GAA was very good for me and all through my illness people would see me getting on McGeehan's bus and people were saying Aah there is that fellah away to Croke Park again…. little did they know, it was Blackrock">
And he also went a faith healer, John Hughes every six weeks for seven years in Rathdrum.
So why is the Chief still around?
And then the old self depreciation slides across his strong features as he chuckles and says":
"As Gaeilge I think it has a lot to with that word "tiubh" which can mean, staunch solid or "thick".
"I am a positive person mentally and I say to people that when your back is to the wall there is one thing you can do.
"If you put your head down it will eventually hit your knees.
"And Bi mor adh mor and see mor", he adds.
"I should not have gone to London in 1996 but nothing was going to stop me from being there when Joe McDonagh was being elected President.
"I knew Joe McDonagh from the early 1970s when I went to Scor Na nOg in Leisureland Salthill and he was a very young fear an ti.
"I did not know but could see that he had greatness and I went backstage to get talking to him.
In tandem with Micheal's tenure in the chair and as a highly respected Central Council delegate, his own club Kilcar had burst on the scene in 1980 and Micheal had the happy task of presenting the Dr Maguire Cup to fellow club- man Sean McGinley, another outstanding legend.
So what was it that made that Kilcar team so special?
"It was the upcoming of the McHugh's and several others that created all that momentum.
"We began a culture of winning which is a great help to any club".
Meanwhile Micheal was deeply involved in the resurrection of the clubs' famous field at Towney.
"We were lucky in the early 1960's that the Micheal Og McFadden Memorial Committee, from Kilcar, donated another piece of land which is now our training field.
"Only for that we would not have a club because quite simply, we would not have a field.
"Then Gaeltarra Eireann were setting up factories in Kilcar and Joe McMenamin from Ballybofey was clearing these sites and was looking for a place to dump the rock.
"The Kilcar club gave him permission to dump the rock at Towney to keep the sea at bay around 1976-78.
"That field was not developed until 1984 when it was officially opened by Paddy McGill.
"For part of the time I was on a solo run on this one", he chuckles.
The club got funds from Gaeltacht bodies and had fund raising of their own.
Charlie McDevitt was a prime mover in all-local matters and he went to Navan to his cousin "Bru" McDevitt whose father was Joe McDevitt, to see their dressing rooms.
"Joe was in Maynooth when 1916 began and said to someone, how could I stay here and Dublin burning.
"So Joe was also a very prominent referee in Kilcar in the 1920s and in those years players played in their trousers and would not wear togs.
"But Joe was so adamant that everyone should play in togs, that he even wore the togs to the dances at night".
But he has very firm views on the explosion of physical fitness levels in recent years.
"When I trained the Kilcar team it was very important to get them fit to play.
'But today this has been taken to serious levels.
"Young men are being put through a grueling stage where they are not at their adult stage bone wise and so on.
'And I think that is going to show serious results in the short term because some of those young men will be breaking down".
So what does he think of development squads?'
John Joe O'Shea's comments are right and he has thought a lot about it.
"The time will come when even the best of soccer players can be short enough.
"I am not an expert on this so I think the experts should come out and tell us how far you can go.
"U-16's are not fully formed and they are being heavily trained with weights etc and it is not healthy.
But for an entertainment point of view with the growth in the boring heavy defence and hand passing, Micheal thinks that a 13-a-side game would be much more entertaining.
And he does not like anyone to referring to his or her club as "small".
"It happens quite often and it angers me because when you say that a club is small you are instilling into the youngsters completely wrong ideas.
"There is no such thing as a small club, it is only in the people's minds.
"It is part of the old inferiority mindset and you must believe in your club at all times.
"And I believe that the GAA generally is a bit like a big blob of jelly slowly rolling down a hill and you get people pushing and shouldering it in different ways but it always comes back to its original shape".
And then he is asked about how he got the title "The Chief".
"I think it might be from the time that I was county chairman and was wanting to know everything that was going on in the county and then giving it my imprimatur.
"I did delegate but I also liked to be hands on.
"There were a lot of great people like Danny Harkin from Convoy who did some great work in the fund raising.
"Some people had ideas that were literally out of this world but every idea that works is a good idea".
When asked for an assessment of Brian McEniff, the man who managed Donegal to its first ever All-Ireland title, he is unequivocal:
"Brian had a great aptitude to stay managing teams and in the 1980s when finance was relatively scarce, we were so lucky that no official, to my knowledge, got any expenses.
"And Brian McEniff has given his life to the GAA without charging a penny.
"And I think that deserves the highest credit.
"I admire him for being there for so long and also managed Ulster to more Railway Cup titles than any other manager".
And then the "Chief" weave his way into 1984 when the competition was held in Limerick every county was supposed to send an ex player, and an up and coming player along with the chairman and all travelled with the Ulster team.
"Martin Griffin was the ex player, Enda McHugh was the up and coming player and the Ulster players were so well tuned in that we did not see one of them in the place that we were staying in.
'That is except for four of our own Donegal lads looking around the bar where Gene Larkin of Armagh and I were having a quiet pint and asking:
"Where's the craic"?
And that was the Donegal player's signature tune from then on to around 2011 when the Messiah from Glenties Jim McGuinness changed everything utterly.
Fast-forward to the Noughties and Micheal was chairman of Coiste Na Gaeilge in Croke Park until 2002.
He was made chairman of the Oireachtas Na Gaeilge in 2012 in Letterkenny.
And then he tilts at life's dark ironies when he was inducted into the Hall of Fame a Donegal Dinner in Dublin.
'"Jack Boothman and Joe McDonagh were both there, and both sadly passed away since.
'The rumor was out that I did not have long to go and I thanked them very much but told them they had overshot the runway".
"This Hall of Fame, I wonder about it, and that is no disrespect to those who do a good job in promoting it.
So how did he feel in 2012 when Jim McGuinness worked his magic?
"Jim did great, coming from being a sub in 1992 and 20 years later to get his ideas processed into the finished product.
"That what life is about, you put your mind to it and do your best".
 "Jim will be remembered for 2012 and beating Kerry and Cork in the one year and that was previously unthinkable.
"I still don't like that brand of football that Donegal played, but people that give out about it don't see what it is intended for.
"It was intended for winning games, not creating entertainment."
Micheal was at the final with Fr John McLoone and they should have won it in 2014.
'I think we were kind of bullied out of it really.
"Michael Murphy and Ryan McHugh got a lot of attention and Kerry were very strong physically and we nearly got back if Colm McFadden had to get that goal.
"Papa Durcan's kick out was just one of those things and I am sure he has had some nightmares, but he was a great player.
"And they only thing you can do with a nightmare is to give it a bale of hay," the eternal quip and chuckle.
He added that he was very disappointed that Aodh Ruadh's Tom Daly did not go for President of the GAA.
"I was disappointed.
"He certainly has the ability and he would have won it had he stood.
"Tom has been a very good friend down through and it would have been great for Donegal to have had a President of the GAA.
'But it is not too late for him so you never know…"
Tom Daly is currently overseeing a fairly complex and much delayed project in Casement Park.
"I believe that is why he did not go as he wanted to concentrate on Casement Park.
"I would not like to have that job".
But Micheal was very proud to be involved in the development of Croke Park as Central Council delegate when visionary past President Peter Quinn used all his business acumen to explain to some doubters just why it wa so necessary for to push this project through.
"Peter Quinn had opposition from the start because there were some people on the Ard Chomhairle who could not understand why this had to be done.
"They said the Hogan Stand was only 50 years old, but there was pieces of concrete falling off it.
"It was a danger and you could see he steel inside it and the Health and Safety people would have closed Croke Park down at the time only for the decision to re-develop it.
"If Croke Park closed down, it would have ruined the Association and would have ripped the heart of it.
"We would have gone from a good place to Hell".
Peter Quinn stuck to his guns and had good help.
"Some of the older guys on the management committee, the only way that it could be explained to them was that what we had was like a 135 tractor, bit we needed a 175 model."
Micheal admits that the GAA has been very good to him and has been a major part of his life and adds:
"What you have to do in the GAA is to legislate for what is happening now and be up with the times.
"I can't see how players at county level can be training three of four nights a week and then playing at the weekend.
"They are doing physical exercises all week in gyms and maybe their wives and girlfriends at home and the grass growing up to the windows and their spouses giving out.
"I think players should not have to go to a central gym just to get fit, in many clubs those facilities are already there.
"They should train with their clubs, there is no point in running away to some place, just to run.
"In Kilcar we were playing in an U-21 Ulster championship competition and had to pull out because the club was fixed to play in the Ulster Senior club championship on the same weekend.
"That was not good for Kilcar or Gaoth Dobhair either because they were very annoyed that they did not have the chance to beat Kilcar en route.
"And then there is the Gaeltacht competitions which are very important for all the clubs concerned and the county players should not be told by county managers that they can't play in the Gaeltacht competitions which take place on the May Bank Holiday Weekend Donegal and the June Bank Holiday Weekend nationally.
"This is an All-Ireland competition, the club is the focal point and it should be club first, county second in this instance.
"The sooner that gets instilled into county team managers and there is no rule in the Official Guide covering team managers."
He adds:
"It is the county board that is supposed to be running he affairs of the Association within the county.
"Things happened in this county that the board were not au fait with".
So what does he think of the very public and active decision by the Donegal County Board to make sure that this month of April is free for county players to play for their clubs.
And it would appear that this is being carried out so far after last weekend's double round of league fixtures.
"I am not sure how it will work but it is a good idea in theory.
"There are player who are getting injured at county training among themselves and they would be far better off out with their club every Sunday actually playing matches against different people.
"They are with the same people night after night and that surely has to be the most monotonous thing out.
"And when you don't want to get injured that is surely the time you will get injured".
So what are the good things about the GAA?
"It is great for the youth of the country and the GAA has also become the babysitters for the nation in a type of a way.
"It is good that fathers and mothers know that when their child is getting picked up that they know they are going to a safe place.
"And then they are working with others in that team work which you need in all walks of life.
"There is a great sense of community also and anyone that went abroad to a GAA club, they are made feel at home.
"I used to say that after Donegal won the All-Ireland in 1992, you could go into any house and just ask:
"Is the kettle on"?
"I remember Seamus Cleary from Mountcharles, who was a native of Ballyshannon saying he would die happy if Donegal won the All-Ireland…. and he did"
And what are the things that the GAA could do better?
"I am optimistic that they are progressing fairly well and the have a team of team managers with the same view.
'But you will never have that unless you have someone to co-ordinate all of this and instill in them a coherent system".
And what about the growing annoying trend towards Gaelic Handball?
"There will have to be someone who can come up with a system that will give more entertainment a la 13-a-side and a better way to win a game, with more kicking.
"Some of the kicking is quite good and those All-Ireland club championship are very entertaining and very different from the county games".
Elsewhere Micheal is a proud Kilcar man that his club won the Donegal double last year and ran Slaughtneil so close in a real cracker in the Ulster Club Championship.
"I was at the county final and it was great to see them win.
"It is great for them and the parish and they deserve every credit and they have proved that they can be up there with the best of them and that puts real pride in the paroiste.
"And it is great for people's mental health just like when Donegal won their first All-Ireland title.
"Instead of going around with a hump on their back saying it is a bad day today, you have something else to talk about".
And for the likes of Rory Gallagher who narrowly lost out on Ulster tile success, he has some solid words of encouragement.
'There is very little difference between winning by a point or two and losing by the same margin.
"I can't understand that if the county wants to be behind a team, why the three NFL games had to be played at three different venues.
"If the players get used to a particular venue, that is where you should be playing your matches.
"It does not matter what venue, it should be for the players and I think that would have made a big difference this year".
And then he segues into a tribute the late great Tine Si or Colm Murray who worked in an era when the press were allowed into cover a county board meeting.
Colm was in the middle of a stormy one in the mid 1980s and remarked:
"Micheal Mac Giolla Easbuic was like a bluebottle in a byre of bellowing bullocks".
"He was a great character and he used to ask what gap the Dr Maguire Cup was going through a particular year and I said.
"The only gap you will have to worry about is the one between your ears.
"But he was a colourful writer and I was at his funeral"
And that is typical "Chief", a bon mot and a great heart.
"At the end of he day we are only the custodians of what we inherit in the GAA.
"My regrets are that I may have been a bit naïve at times.
"And that was taken advantage of on a few small occasions.
Micheal was once asked what it was like having cancer and he said:
"It was like jumping from a high building and shouting at the windows on the way down, all right so far.
"But that's life"
And then he pays tribute to the late Gene McGinley from Kilcar whose funeral was on April 2.
"Gene organized the local "Milk Cup" and was a great man for the youth in Kilcar from the 1960s onwards and he discovered Martin McHugh.
"Interestingly Mark, Ryan and Eoin McHugh are the only children of the 1992 All-Ireland winning team to play for the county and Mark could be the only player in the country to win an All-Ireland senior medal, 20 years after his father Martin.
"I asked the Memory Man Jimmy McGee about this and he did not know of any similar example.
"Gene was a selector for the team of the Century along with Sean O'Cinneide, Sean Slevin, Frank Muldoon and Ben Griffin"
"Former county chairman Danny Harkin did great work in fundraising as did Father Brian Quinn in 1992.
"And Liam Reilly from Dungloe was another Laoch Na nGael, he was the greatest catcher of a ball from a standing position because his brother's Tom and Terry were all taller than him".
And he concludes by paying tribute to his present wife Bernadette who "looked after me through all my never ending illnesses and the slight stroke I got in 2004.
"She was always ready to assist me and travel with me.
"She has had great patience with this fragile being".
But the GAA in Donegal was very lucky to have had a truly great "Chief" at the heart of the association for so long.
Gura fad buan thu a Thaoisigh, agus tú ag treabhadh go liteartha ar son do mhuintir, d'ait dhuchais, do Chill Chartha agus do Thir Conaill.
Ni bheidh do leithéíd ann arís!