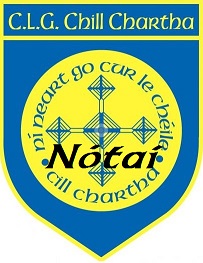 2022 Club Membership- Time is running out!
Our Club Membership deadline is fast approaching please if you have not already done so sign up ASAP, prices remain the same and the closing date to register is 31st March to register and for more information on our website at this address http://clgchillchartha.com/club-membership
Ladies
Our Senior Ladies Wild Atlantic Way Spinathon that took place on 17th March it was a great turnout all round. On behalf of the ladies board and team/management we would like to take this opportunity to thank everyone who has helped out in anyway whether it was to hold a bucket or hop on the bike or just to be present while our ladies done their cycle, we appreciate all the support we get from our local community. Another big thanks to our local Centra Kilcar and the Áislann Chill Chartha for the use of their premises, equipment and supplies for the day.
Lidl Plus LGFA Stamp Card Rewards Scheme
The Lidl Plus LGFA Stamp Card Rewards Scheme is back in action from Monday, February 7th 2022. It would be greatly appreciated for those who shop in Lidl to support your local ladies teams to be in a chance of winning a set of jerseys & much more. "This gives the opportunity for the club to raise up to €20,000 by following the these simple steps below:
Download/Open the Lidl Plus App & tap "Start Collecting".
Select the club you want to support.
Spend over €30 in store and scan your Lidl Plus card to earn a stamp (over €60 = 2 stamps, over €90 = 3 stamps etc.)
Collect 6 stamps and submit your completed card by Sunday the 27th March. "
For more information please visit: http://www.lidl.ie/serious-support 
County Steward Training
Steward Training for NEW and EXISTING Stewards is taking place at the GAA Centre in Convoy at 9am on Sat 9th April.
This will cover stewards for club and county games usage. This is a vital area around, Security, Safety and Protection of our property and crowd management at our grounds. Contact our secretary Gary if you are interested in attending.
Club Lotto Jackpot now €9,300
Is iad uimhreacha Lotto ná seachtaine seo nó: 11, 13, 14 agus 20.
Buaiteoirí eile:
€50 Mark Campbell, Meenboy
€30 Niall Connolly, Swords
€20 Darragh McShane, c/o Granny Mac, Kilcausey agus Darragh Rowan, Keenaghan.
Béidh €9,300 i bPóta Óir na seachtaine seo chugainn. Winners can contact the club at treasurer.kilcar.donegal@gaa.ie with their IBAN and BIC details so payments can be sent straight to your bank account.  Entries can also be purchased at our stand in Centra, locally or online before 6pm each Sunday at this link https://tinyurl.com/y6tx8f64
Online Bingo – Jackpot €10,000
Thanks to all who entered our Online Bingo on Sunday, join us again this Sunday at 8pm login to Zoom from 7:30pm we are playing with a 9 page book at a cost of €10 for a single and a double book is €15, the club will print out books for an extra €1 charge and collection will be in Centra from Saturday afternoon (no deliveries). Total prize money on the night is €1,400. Cut off time is 9pm on Thursdays for club printed books purchased in Centra and 12 noon on Saturday for online books. Please note we send in two bulk orders to the bingo book company, the first goes in on Thursday and these books are emailed out on Friday by the bingo company and the second order goes in just after noon on Saturday, these books are sent that afternoon. Full details on our website at:  https://tinyurl.com/7hhf68ce   
Some of this week's winners were:
€220 Nora Gallagher €150 Letitia Doherty €100 Geraldine Kane, Carmel Lyons €80 Mary McCloskey, Trina McShane, Aisling McShane €50 Margaret Cunningham €40 Anne Deane, Margaret McGinley, Michelle Lowther agus Teresa Dolan.
Club Merchandise
We have club gear and merchandise for sale at the GAA Grounds in Towney, you can also buy online at our O'Neill's and O'Reillys Club Shops and you can buy the St Bridget's framed picture via our website for more information visit: http://clgchillchartha.com/club-shop
Follow us on Social Media
For the latest news visit our website www.clgchillchartha.com you can also follow us on Facebook and Twitter at facebook.com/CillCharthaGAA and @KilcarGAA you can also follow us on Instagram at kilcargaa and Snapchat at clgchillchartha.