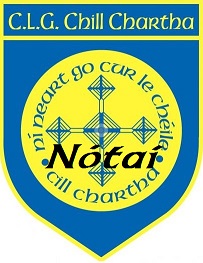 Club Lotto to Resume
Following on from our very successful Ten Week Draw which saw a huge increase on tickets being bought online, we are now re-launching out weekly Lotto Draw online commencing from Sunday 24 January.
Our Jackpot currently stands at €3,200 and entries can be bought online before 6pm each Sunday at this link https://tinyurl.com/y6tx8f64
In the new few weeks we will also have a facility set up in Centra, Kilcar where you can also purchase your entry weekly. Hopefully in the not too distant future when restrictions are lifted we will get back to our normal routine in selling Lotto's and indeed getting our Drive in Bingo up and running again.
In the meantime we ask everyone to take care, stay safe and once again a big thank you for your continued support.
Ireland Lights Up 2021
Healthy Club 'Every Step Counts' Challenge
Thank you to all who already registered and that are using the app we are currently in the top 100 clubs in the province and if you are a regular walker/runner and are not already using the app we would love it if you could sign up, the GAA Healthy Club 'Every Step Counts' Challenge in partnership with Irish Life's MyLife App proceeded on Wednesday, January 13th and will run for 7 weeks.
The Every Step Counts Challenge is a virtual challenge; this is the ideal challenge for your club, its members & the wider community to get involved with during the current level of restrictions.
In each province there are 3x O'Neill's vouchers up for grabs - €2,500, €1,500 & €1,000. Any club that tracks more than 4,000km during the challenge will be entered into the prize draw in their province.
To join in follow the steps below:
Download the free MyLife app from Google Play/App Store
Tap on the social tab on the MyLife app
Select challenges
Select the challenge for Ulster
Tap on join & select CLG Chill Chartha 
St Bridget's Cross Picture
Looking for the ideal handmade Irish made gift? You can get a unique framed St Bridget's Cross in the club colours along with a blessing all hand made using all Irish products by former club player Gabriel Gillespie originally from Curris who is now living in Co Offaly. Each picture costs €120 with a deposit of €50 required. More details on our website here: https://tinyurl.com/y5moupnn
Drive in Bingo
Suspended until further notice due to Government regulations
For the latest news visit our website www.clgchillchartha.com you can also follow us on Facebook and Twitter at facebook.com/CillCharthaGAA and @KilcarGAA you can also follow us on Instagram at kilcargaa and Snapchat at clgchillcahartha.