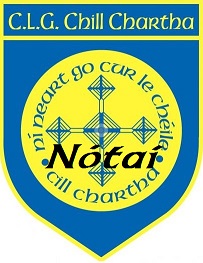 We would like to wish you all a very Happy Christmas and ask you all to stay safe and you all have a great day wherever in the world you may be.
Walk with M.E
Please note that the above event which was planned and advertised for the GAA Grounds in Towney on Saturday 26th December will not now take place, as the walk has also been organised at The Blue Haven from 12-2pm. We have offered our support to the organising committee for The Blue Haven event and would ask all members to support this very worthy cause at a venue near to you. CLG Chill Chartha will also be making a donation to the charities for which this walk is being organised for.
Ten Week Draw /Crannchur Deich Seachtaine.
Weeks five and six draws were held on Sunday evening the lucky winners were:
Week Five Winners:
€1,000 Paddy Bourne, Letterkenny €500 Carmel Byrne, Drimroe, Glencolmcille €300 Mary a Byrne, Straleel
€200 Marty McGing, Killybegs, Margaret Sweeney, Curris agus Niamh McGuire, c/o Aidan Gallagher
Week Six Winners:
€1,000 Leanne Connolly, Dublin €500 Patsy Meehan, Donegal Town €300 Raymond Carr, Glasgow €200 Annette Conroy, Croagbeg,  Joanne McHugh, Stranakirka agus Noreen Cunningham, Straleel
Paid up Members Draw
€500 Noelle Campbell, Castlecarn agus Brendan Kelly, Letterkenny
You can still get tickets for the four remaining draws via the link bellow or by contacting your local seller or committee member, you can also contact: Nicola Doogan 087-4150188, John Carr 087-2225599, Fiona McGinley 087-9038590 or Glenda Dolan 087-0972236. Total prize fund of €25,000 with weekly prizes of €1,000, €500, €300 and €200 x 3. Enter online where you can pay in full or instalments at https://tinyurl.com/y2gcq484
We wish to express our gratitude to all who entered this year's draw and with all the restrictions in operation it has been a fantastic response to this vital fundraiser for the club.
St Bridgets Cross Picture
Looking for the ideal handmade Irish made gift? We are now taking orders for a unique framed St Bridget's Cross in the club colours along with a blessing all hand made using all Irish products by former club player Gabriel Gillespie originally from Curris who has been living in Co Offaly for this past dozen years.
Each picture costs €120 with a deposit of €50 required. You can view the pictures for yourself in Centra.
More details on our website here: https://tinyurl.com/y5moupnn
Club Lotto and Drive in Bingo
Suspended until further notice
Condolences
We would like to extend our sincere condolences to family and friends of Hugh Byrne, Straleel who passed away recently. Ar dheis Dé go raibh a anam
For the latest news visit our website www.clgchillchartha.com you can also follow us on Facebook and Twitter at facebook.com/CillCharthaGAA and @KilcarGAA you can also follow us on Instagram at kilcargaa and Snapchat at clgchillcahartha.